We have watched the cult movie 3 IDIOTS based on the hostel life of engineering college. The movie that showed us the values of friendship and success. The movie that taught us "Success ke peeche mat bhago. Kabil bano kabil. Kambyabi sali jhak maar ke peeche ayegi." – Baba Rancho
But here is the movie Chhichhore that tells us about failures and makes us capable of handling the pain of failure.
Chhichhore Movie Review
Genre: Comedy, Drama
Director: Nitesh Tiwari
CBFC: U/A
Cast: Sushant Singh Rajput, Shraddha Kapoor, Varun Sharma, Prateik Babbar, Tahir Bhasin, Tushar Pandey, Naveen Polishetty, Saharsh Kumar Shukla
Rating:
★★★★★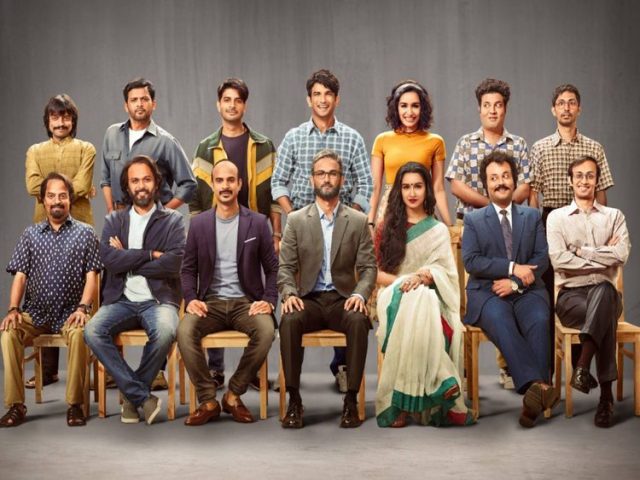 The story of Chhichhore plays a dual role of past and present life of seven friends. The glorious past is trying to heal the bitter present with the help of golden days of engineering college.
Sushant Singh Rajput (As Ani) and Shraddha Kapoor (as Maya) are charming in their roles. But do not forget that the story has multiple heroes including the antagonist Prateik Babbar.
This movie is the next level friendship saga which is a little bit on the lines of 3 IDIOTS but still far away from it. Based on the plot of engineering college hostel days, a love story, troubled parenting and the importance of being capable of facing failure is the soul of the story.
The Fukrey star Varun Sharma (Sexa) is as amazing as the Chucha of Fukrey & Fukrey Returns. The foul-mouthed Acid (Naveen Polishetty) and the kind hearted mumma's boy Mummy (Tushar Pandey) are the soul of the story. Whereas Bevda (Saharsh Kumar Shukla)  add up the passion to this beautiful tale of friendship. And Derek (Tahir Bhasin), the atheletic champ is spot on.




Prateik Babbar as Raggie does justice to the role of the leader of the rival team.
A brilliant concoction of love, comedy, bromance, friendship and right parenting style; this movie touches the hearts of the viewers.
The movie reminds you of 3 IDIOTS and Jo Jeeta Wohi Sikander at many stages and still, the movie is much beyond these two movies as this movie uniquely celebrates the glory of failure and conveys the message that "Failure is not the end of the life, failure is not fatal".
Somewhere the title of the movie doesn't do justice to the brilliant story and star cast of the movie. It could have got some better title may be.
What is the best – The perfect cast, the story, the humor, and the flawless performance of each and every character proving that every character is the hero of the story.
Chhichhore Movie Review – Must watch this unexpectedly unique and brilliant movie. There is nothing that you would regret after watching a masterpiece on friendship goals and life lessons.
I am taking my Alexa rank to the next level with Blogchatter. #MyFriendAlexa