Goodbye September Hello October Quotes
October emerges as a canvas painted in warm hues, a poetic transition bidding adieu to the departing September. Once kissed by the fading summer, the air transforms into a crisp symphony of falling leaves and the promise of cozy evenings. Nature orchestrates its annual spectacle, casting a breathtaking palette of reds, oranges, and golds, as if saying a vivid goodbye to the sun-drenched days of September.
September's farewell is not a melancholic departure but a graceful handover to October's embrace. As the days shorten, there's a tangible shift—a subtle dance between endings and beginnings. The vibrant tapestry of September memories seamlessly blends into October's cozy narratives.
With its cool breeze and pumpkin-spiced aroma, October becomes the storyteller of autumn. It invites us into a world adorned with harvest festivals, apple-picking adventures, and the enchanting rustle of leaves underfoot. The landscape transforms into a playground for the senses, where every sight, sound, and scent carries the essence of fall.
As September exits stage left, October steps into the spotlight, promising a new chapter of brisk mornings, warm sweaters, and magic only autumn can weave. It's a season of transition, where the beauty of farewells and the anticipation of beginnings dance together in perfect harmony.
100+ Goodbye September Hello October Quotes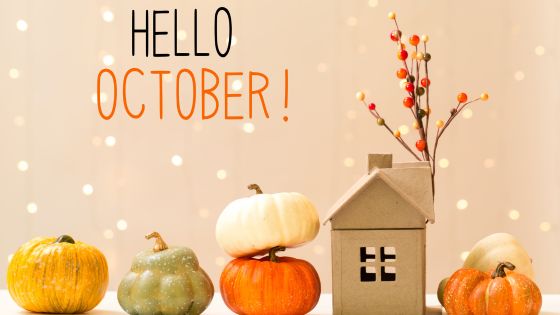 "September whispers fade as October's breeze carries the promise of cozy sweaters and pumpkin-spiced dreams."
"Goodbye, September's warmth. Hello, October's embrace of crisp air and falling leaves."
"As September steps aside, October unfolds its autumn magic, painting the world in hues of gold and amber."
"Farewell, September's sun-kissed days. Hello, October's moonlit nights and crackling bonfires."
"September's adieu is the prelude to October's symphony of falling leaves and harvest delights."
"Saying goodbye to September is like turning the page to October's story, filled with pumpkin patches and spice-scented adventures."
"September, thank you for the memories. October, let the autumn festivities begin."
"As September's sunsets, October rises with the promise of cozy blankets and apple orchard dreams."
"Farewell, September blooms. Hello, October's canvas of reds, oranges, and golden hues."
"September, you were a gentle goodbye. October, be the warm hello of fall's embrace."
"Goodbye, September's green. Hello, October's tapestry of autumnal scenes."
"As September's chapters close, October's pages open with the aroma of cinnamon and nutmeg."
"September's farewell kiss is the welcome breeze of October, carrying the scent of falling leaves."
"Thank you, September, for the warmth. Hello, October, with your pumpkin-spiced charm."
"Saying goodbye to September is like stepping into October's pumpkin patch, filled with autumn wonders."
"September, you were a gentle breeze. October, blow us away with your fall enchantment."
"Farewell, September's sunshine. Hello, October's cozy moments and harvest feasts."
"September's exit is the opening act for October's grand performance of autumn's beauty."
"Goodbye, September's laughter. Hello, October's whispers of crisp air and falling leaves."
"As September's sun dims, October lights up the stage with its golden autumn glow."
"September, you were a melody. October, compose the symphony of falling leaves and pumpkin spice."
"Saying goodbye to September is like closing a chapter to dive into the pumpkin-spiced tales of October."
"September, you were a warm embrace. Hello, October, with your cozy sweater weather."
"Farewell, September's golden moments. Hello, October's harvest of memories."
"September, your colors linger in our memories. October, paint us with your autumn hues."

"Goodbye, September's sunshine. Hello, October's moonlit nights and jack-o'-lantern delights."
"September, thank you for the sunshine. October, wrap us in your cozy blanket of fall."
"As September's warmth wanes, October's chill invites us to gather around the warmth of autumn."
"Farewell, September's days. Hello, October's nights filled with the glow of harvest moons."
"September, you were a golden farewell. October, be the amber welcome of autumn's arrival."
"Saying goodbye to September is like stepping into October's patchwork quilt of falling leaves."
"September, you were a sunlit sonnet. Hello, October, be the verse of autumn's poetry."
"As September takes a bow, October steps onto the stage of falling leaves and pumpkin-spiced dreams."
"Farewell, September's warmth. Hello, October's crisp air and the rustle of fallen leaves."
"September, you were a farewell letter. October, be the hello filled with the fragrance of autumn."
"Goodbye, September's green canopy. Hello, October's quilt of reds, oranges, and the warmth of pumpkin spice."
"September, you were a sunlit path. October, be the journey of rustling leaves and pumpkin-spiced dreams."
"Saying goodbye to September is like closing a chapter. Hello, October, with your pages of fall adventures waiting to be explored."
"September, you were a sunlit sonnet. October, be the verse of fall's cozy poetry and pumpkin-flavored dreams."
"As September's curtain falls, October's stage is set—a theater of falling leaves and pumpkin-spiced dreams."
"Farewell, September's laughter. Hello, October's whispers of crisp air and harvest feasts."
"September, you painted the canvas of time. October, let your brushstroke be the colors of autumn's rhyme."
"Goodbye, September's sunshine. Hello, October's moonlight, casting shadows on the canvas of fall."
"September, your warmth echoes in the corridors of memory. October, step in with your autumn breeze and cozy fireside tales."
"Saying goodbye to September is like turning the key to open the door of October's pumpkin patch paradise."
"September, you were a sweet melody. October, play the symphony of autumn with leaves as your musical notes."
"As September's whispers fade, October's breezes carry the scent of pumpkin spice and the promise of fall delights."
"Farewell, September's warmth. Hello, October's chill, wrapping us in the cozy scarf of autumn's embrace."
"September, you were a sunlit sonnet. October, be the verse of fall's cozy poetry and pumpkin-flavored dreams."
"As September's curtain falls, October's stage is set—a theater of falling leaves and pumpkin-spiced dreams."
"September, your sunlit whispers become the echo of October's pumpkin-laden tales."
"Farewell, September's golden glow. Hello, October's embrace, wrapped in the warmth of harvest delights."
"As September bows out gracefully, October pirouettes onto the stage, adorned in the colors of autumn's ballet."
"Saying goodbye to September is like turning the key to unlock the enchanting door of October's fall wonderland."
"September, you were a gentle melody. October, be the symphony that rustles through the autumn leaves."
"Goodbye, September's sunshine. Hello, October's moonlit nights, adorned with the jewels of a harvest sky."
"September, you were a sunflower in the garden of time. October, bloom with the hues of fall's tapestry."
"As September's sunsets, October unveils its canvas—a masterpiece painted in the strokes of falling leaves."
"Farewell, September's warmth. Hello, October's cool breeze, carrying whispers of pumpkin spice dreams."
"September, your farewell note is written in the ink of falling leaves. October, be the next chapter in the autumn novel."
"Saying goodbye to September is like closing the book to open the diary of October's pumpkin-filled adventures."
"September, your golden days linger in our hearts. Hello, October, with your amber nights and crackling bonfires."
"As September's chapters conclude, October's tales unfold, a narrative woven with the threads of autumn winds."
"Goodbye, September's green foliage. Hello, October's canvas, painted with the palette of autumn's symphony."
"September, your warmth lingers like a sun-kissed memory. October, embrace us with your fall-scented arms."
"Farewell, September's laughter. Hello, October's whispers, carried by the wind through the rustling leaves."
"September, you were a chapter of sunshine. October, be the verse of autumn's poetry, written in pumpkin spice."
"Saying goodbye to September is like stepping into October's orchard, where apples and memories abound."
"September, you were a sunlit serenade. Hello, October, be the ballad of falling leaves and harvest melodies."
"As September waves its final goodbye, October paints the horizon with the hues of autumn's embrace."
"Farewell, September's blooms. Hello, October's harvest, a banquet of pumpkin spice and apple delights."
"September, your sunlit stories fade into October's moonlit tales, told by the flickering glow of pumpkin lanterns."
"Goodbye, September's green canopy. Hello, October's leafy embrace, a kaleidoscope of autumn hues."
"September, you were a whispered farewell. October, be the loud hello of autumn's festive cheer."
"As September's sunsets, October's moonrise ushers in the magic of fall's enchanting nights."

"Thank you, September, for the warmth. Hello, October, with your cool breezes and pumpkin-spiced dreams."
"Saying goodbye to September is like closing a chapter to enter the library of October's autumn tales."
"September, your sunlit memories linger. October, be the album of autumn, filled with leaves and laughter."
"Farewell, September's sunshine. Hello, October's harvest, where fields are painted in hues of amber and gold."
"September, you were a sunlit sonnet. October, be the verse of fall's cozy poetry, whispered by the wind."
"As September's warmth recedes, October wraps us in the cozy blanket of autumn's amber glow."
"Goodbye, September's sunny days. Hello, October's cozy nights, a refuge in the arms of autumn's embrace."
"September, your golden moments become the canvas for October's pumpkin-spiced masterpiece."
"Saying goodbye to September is like watching the curtain fall before October's grand performance of fall's symphony."
"September, you were a golden farewell letter. October, be the welcoming note of autumn's melody."
"Farewell, September's warmth. Hello, October's cool breeze, carrying the melody of rustling leaves."
"September, your sunlit paths converge into the cozy trails of October's pumpkin-lit landscapes."
"As September takes a bow, October enters with the grace of falling leaves and the scent of cinnamon."
"Goodbye, September's green whispers. Hello, October's amber secrets, hidden in the rustling foliage."
"September, you were a gentle breeze. October, be the wind that carries the fragrance of pumpkin spice."
"Saying goodbye to September is like closing the door to open the gate of October's pumpkin patch paradise."
"September, you were a sunlit sonnet. October, be the verse of fall's cozy poetry and pumpkin-flavored dreams."
"As September's curtain falls, October's stage is set—a theater of falling leaves and pumpkin-spiced dreams."
"Farewell, September's laughter. Hello, October's whispers of crisp air and harvest feasts."
"September, you painted the canvas of time. October, let your brushstroke be the colors of autumn's rhyme."
"Goodbye, September's sunshine. Hello, October's moonlight, casting shadows on the canvas of fall."
"September, your warmth echoes in the corridors of memory. October, step in with your autumn breeze and cozy fireside tales."
"Saying goodbye to September is like turning the key to open the door of October's pumpkin patch paradise."
"September, you were a sweet melody. October, play the symphony of autumn with leaves as your musical notes."
"As September's whispers fade, October's breezes carry the scent of pumpkin spice and the promise of fall delights."
READ MORE
87 Fall Leaves Changing Quotes To Embrace Autumn