Hello August Quotes: Embracing the Magic and Inspiration of a New Month
August is a month of transition, as it marks the end of summer in the Northern Hemisphere and the gradual approach of autumn. As the sun-kissed days begin to mellow, the warm breeze carries a sense of nostalgia, reminding us of the cherished memories made during the preceding summer months. It's a time for reflection and appreciation of the experiences that have shaped us.
Welcoming August is like opening the door to a new chapter, brimming with possibilities and opportunities. It beckons us to embrace change, to set new goals, and to embark on fresh adventures. Whether it's the anticipation of returning to school, starting a new job, or simply relishing the last rays of sunshine, August brings a sense of renewal to our lives.
Nature, too, undergoes its own transformation during this month. Fields and gardens abound with a vibrant array of colors as flowers bloom in their final flourish. The harvest season commences, offering bountiful fruits and vegetables as a reward for nature's hard work.
August is also a time of celebration and togetherness. Friends and families come together to savor the remaining warm days, creating lasting memories through picnics, barbecues, and outdoor gatherings.
In all its glory, August serves as a gentle reminder to embrace change, cherish the moments that matter, and welcome the future with open arms. So, as we greet this beautiful month, let us seize the opportunities it presents and make the most of its fleeting charm.
Hello August Quotes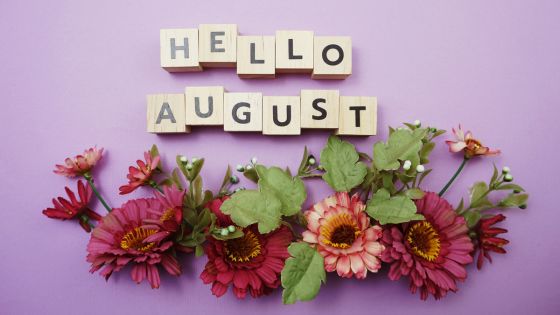 "Hello, August! May this month be filled with sunshine, laughter, and new beginnings."
"Rise and shine, it's August! Embrace the beauty of this month with open hearts."
"August, a time to let go of what no longer serves us and welcome the blessings that await."
"Hello, August! Let's make it a month of dreams coming true and aspirations realized."
"As August arrives, so does the promise of new adventures and unforgettable memories."
"Welcome, August! Here's to days filled with joy, love, and endless possibilities."
"Hello, August! Your arrival brings the perfect blend of warmth and hope."
"August is nature's way of reminding us that change can be beautiful. Embrace it."
"With the arrival of August, the world seems to come alive with renewed energy."
"Hello, August! A month of growth, gratitude, and grace awaits us."
"August is a canvas of possibilities waiting for us to paint our dreams upon."
"As August begins, may we find strength in the simplicity of life's little joys."
"Hello, August! Let's make it a month of kindness and spreading love."
"August whispers of a fresh start and the chance to turn dreams into reality."
"Welcome, August! It's time to savor life's sweetest moments and celebrate its wonders."
"As August unfolds, so do the gifts of appreciation and mindfulness."
"Hello, August! May you bring us closer to nature's beauty and its timeless wisdom."
"August is a reminder that every ending is a new beginning in disguise."
"Welcome, August! Let's make it a month of gratitude and self-discovery."
"As August knocks on our door, let's welcome it with arms wide open and hearts full of hope."
"Hello, August! Your presence brings the promise of brighter days and endless opportunities."
"In the embrace of August, we find the courage to let go and grow."
"August is a time to dance in the rain and bask in the sunshine of life's miracles."
"Welcome, August! Let's embrace its warmth and allow it to light up our souls."
"As August unfolds, so do the dreams we've been nurturing all year long."
"Hello, August! A month of new blessings and cherished memories awaits us."
"August is a symphony of colors, inviting us to live life to the fullest."
"In the arms of August, we find solace and the promise of brighter tomorrows."
"Welcome, August! Let's make it a month of laughter, love, and limitless possibilities."
"Hello, August! Your arrival fills the air with anticipation and excitement for what's to come."
"As August begins, so does the magic of embracing life's imperfections and finding beauty in them."
"August, the month of golden sunsets and dreams taking flight."
"Hello, August! Your arrival is a reminder to bloom where we're planted."
"August whispers of adventure and the thrill of exploring the unknown."
"As August unfolds, let's savor the sweetness of life like the last summer fruits."
"Welcome, August! A time to slow down, breathe, and find peace in simplicity."
"In the embrace of August, we find the courage to turn the page and start anew."
"Hello, August! Your days are like chapters waiting to be written in our story."
"August, a month of soulful introspection and rediscovering our true selves."
"As August dances into our lives, let's dance to the rhythm of joy and gratitude."
"Welcome, August! Your warmth melts away worries, leaving only love behind."
"Hello, August! Embrace us with your gentle touch, inspiring growth and change."
"August is a canvas of dreams; we hold the brush to paint our destiny."
"In the heart of August, we find the resilience to weather life's storms gracefully."
"As August unveils its secrets, let's be open to the miracles it brings."
"Welcome, August! A time to gather the scattered pieces of our dreams and build anew."
"Hello, August! May this month be a symphony of laughter and camaraderie."
"August, a month to fill our cups with optimism and drink deeply from life's goodness."
"In the arms of August, we find strength in vulnerability and beauty in imperfections."
"As August graces us with its presence, may we cherish every moment and make them count."
"Welcome, August! A time for turning obstacles into stepping stones on our journey."
"Hello, August! Your rays of hope illuminate the path to our heart's desires."
"August, a month of blooming friendships and nurturing connections."
"As August paints the world in warm hues, let's embrace the colors of diversity."
"In the embrace of August, we discover the power of small acts of kindness."
"Welcome, August! A time for healing wounds and forgiving past transgressions."
"Hello, August! Your arrival marks a new chapter in the book of possibilities."
"August, a month of reflection, learning, and embracing life's lessons."
"As August unfolds, let's dance with the rhythm of life and find harmony within."
"In the heart of August, we find the strength to let go and make room for growth."
"Welcome, August! May your days be a journey of self-discovery and authenticity."
"Hello, August! Your days are like treasures waiting to be uncovered and cherished."
"August, a time to plant seeds of intention and watch them bloom into reality."
"As August graces us, let's find beauty in the simple moments and ordinary days."
"In the arms of August, we find the refuge to embrace vulnerability and empathy."
"Welcome, August! A time to dive into the ocean of creativity and express ourselves freely."
"Hello, August! Your presence inspires us to let go of expectations and find joy in the present."
"August, a month to savor life's delights and indulge in the sweetness of living."
"As August embraces us, let's walk boldly in the direction of our dreams."
"In the heart of August, we find the courage to release our fears and soar to new heights."
"Welcome, August! Your days are like whispers of hope, urging us to believe in miracles."
"Hello, August! May your days be filled with laughter, love, and cherished memories."
"August, a time to let go of regrets and embrace the beauty of second chances."
"As August unfolds, let's dance with the rhythm of gratitude and count our blessings."
"In the arms of August, we find the comfort to heal old wounds and mend broken hearts."
"Welcome, August! Your arrival brings the promise of blooming dreams and fulfilled desires."
"Hello, August! Let's make this month a celebration of growth and transformation."
"August, a month of reconnecting with nature and finding solace in its embrace."
"As August graces us with its presence, let's dance to the melody of inner peace."
"In the heart of August, we find the power to embrace change and thrive through transitions."
"Welcome, August! A time to ignite the spark of passion and pursue our wildest ambitions."
"Hello, August! Your days are a canvas for us to paint our dreams upon."
"August, a month to dance under the stars and wish upon them too."
"As August begins, let's be the sunshine in someone's cloudy day."
"Welcome, August! Your arrival sparks the fire of inspiration within us."
"In the arms of August, we find the courage to take leaps of faith."
"Hello, August! Your days are like chapters waiting to be filled with adventures."
"August, a time to embrace change and bloom with resilience."
"As August graces us with its presence, let's live in the present moment."
"Welcome, August! A month of forging bonds that last a lifetime."
"In the heart of August, we find the strength to chase after our passions."
"Hello, August! Your arrival calls us to explore new paths and discover hidden treasures."
"August, a month of gratitude for the little joys that make life worthwhile."
"As August unfolds, let's find serenity in the midst of life's chaos."
"Welcome, August! Your days are a tapestry woven with love and kindness."
"In the arms of August, we find comfort in the beauty of the natural world."
"Hello, August! Let's leave a trail of kindness wherever we go this month."
"August, a time to let go of worries and embrace the freedom of living."
"As August graces us, let's make space for creativity and imagination to flourish."
"Welcome, August! A month to heal old wounds and mend broken hearts."
"In the heart of August, we find the courage to stand tall in the face of challenges."
"Hello, August! Your days are like melodies, and we dance to their rhythm."
"August, a time for self-discovery and finding the magic within."
"As August begins, let's cultivate patience and grace in our interactions."
"Welcome, August! Your presence is a reminder to live authentically."
"In the arms of August, we find solace in the beauty of simplicity."
"Hello, August! Let's create moments that leave lasting impressions."
"August, a month of blossoming friendships and cherished connections."
"As August graces us with its presence, let's water the seeds of compassion."
"Welcome, August! A time to embrace vulnerability and find strength in it."
"In the heart of August, we find the wisdom to let go of what no longer serves us."
"Hello, August! Your arrival brings a symphony of laughter and joy."
"August, a month of spontaneous adventures and unplanned memories."
"As August unfolds, let's spread kindness like wildflowers in the breeze."
"Welcome, August! Your days are like poetry, and we're the poets of our destiny."
"In the arms of August, we find the grace to forgive and move forward."
"Hello, August! A time to embrace change and bloom with resilience."
"August, a month to dance under the stars and wish upon them too."
"As August begins, let's be the sunshine in someone's cloudy day."
"Welcome, August! Your arrival sparks the fire of inspiration within us."
"In the arms of August, we find the courage to take leaps of faith."
"Hello, August! Your days are like chapters waiting to be filled with adventures."
"August, a time to embrace change and bloom with resilience."
"As August unfolds, let's find serenity in the midst of life's chaos."
"Welcome, August! A month of forging bonds that last a lifetime."
"In the heart of August, we find the strength to chase after our passions."
"Hello, August! Your arrival calls us to explore new paths and discover hidden treasures."
"August, a time of gratitude for the little joys that make life worthwhile."
"As August graces us with its presence, let's live in the present moment."
"Welcome, August! Your days are a tapestry woven with love and kindness."
"In the arms of August, we find comfort in the beauty of the natural world."
READ MORE
87 Fall Leaves Changing Quotes To Embrace Autumn
Hello June Quotes (Perfect Quotes To Celebrate June)
May Quotes: 100+ May Quotes and Sayings
New Year Resolution Quotes For A Fresh Start Again