How Often Should You Rinse Your Hair With Green Tea?
In recent years, there has been a growing trend towards adopting natural remedies for various aspects of health and wellness, including hair care. Among the rising stars in the realm of natural hair care, green tea has gained significant popularity as a potential hair rinse. Known for its numerous health benefits when consumed as a beverage, green tea is now making its way into our hair care routines, promising to rejuvenate and revitalize our locks.
The Nutrients and Benefits of Green Tea for Hair
Green tea is not just a refreshing beverage; it also boasts an impressive nutrient profile that can work wonders for our hair. Rich in antioxidants such as polyphenols, catechins, and the powerful EGCG (Epigallocatechin gallate), green tea offers potent protection against oxidative stress. When applied to the hair and scalp, these antioxidants can combat free radicals, which may contribute to hair damage and premature aging.
Additionally, green tea possesses anti-inflammatory properties that can soothe the scalp and promote a healthy environment for hair growth. Green tea helps create a conducive atmosphere for strong and luscious hair by reducing scalp inflammation.
Before diving into the world of green tea hair rinses, it's essential to understand the various hair and scalp conditions that people commonly face. Whether it's hair loss, dandruff, dryness, or excessive oiliness, green tea has the potential to address these concerns effectively.
The natural compounds present in green tea can strengthen hair follicles, reduce breakage, and improve overall hair health. Its anti-fungal properties also make it an ideal choice for those dealing with dandruff and an itchy scalp.
How Green Tea Rinses Work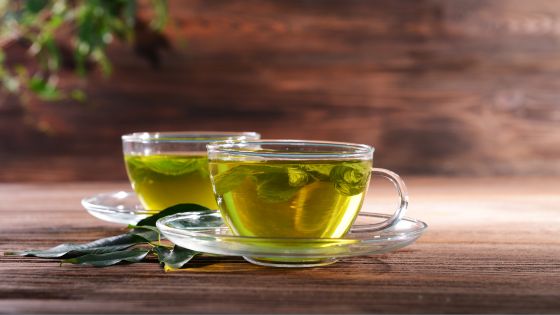 The magic of green tea lies in its ability to penetrate the hair follicles and scalp, delivering essential nutrients directly where they are needed most. When used as a rinse, green tea can promote blood circulation in the scalp, ensuring that the hair roots receive an adequate supply of nutrients.
Furthermore, green tea's pH-balancing effect can help maintain the scalp's natural acidity, providing a healthy and optimal environment for hair growth. By restoring the scalp's balance, green tea can potentially prevent common hair problems caused by an imbalanced pH level.
Preparing Green Tea Rinses: DIY Recipes
One of the best things about using green tea for hair care is that you can easily prepare it at home. There are several ways to create a green tea hair rinse, whether you prefer using loose tea leaves or tea bags. By brewing a fresh batch of green tea and allowing it to cool, you can create your very own natural hair tonic.
For those seeking additional benefits, mixing green tea with other natural ingredients like honey or aloe vera can further enhance the overall impact on your hair. Alternatively, you can explore commercial hair care products that contain green tea extracts.
How Often Should You Rinse Your Hair With Green Tea?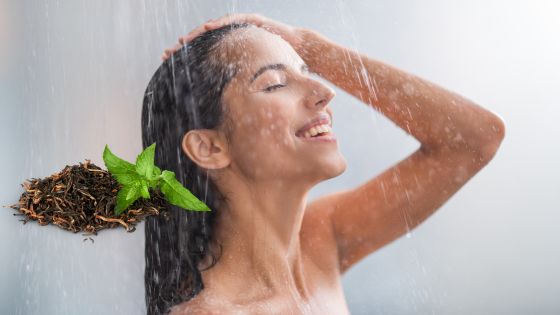 The frequency of green tea rinses can vary depending on individual hair type, scalp condition, and hair care goals. Here are some general guidelines to help you determine how often you should do a green tea rinse:
Dry and Damaged Hair:
You can benefit from more frequent green tea rinses if you have dry and damaged hair. Try doing a green tea rinse once or twice a week to provide your hair with the nourishment and hydration it needs.
Oily Hair and Scalp:
More frequent green tea rinses can help control excess oil production and maintain a balanced scalp for those with oily hair and scalp. You can try doing a green tea rinse two to three times a week.
Normal Hair with No Specific Concerns:
If your hair is relatively healthy with no particular issues, doing a green tea rinse once a week or every two weeks can be sufficient to promote overall hair health.
Thinning Hair or Hair Loss Concerns:
If you are experiencing hair loss or thinning hair, you may consider increasing the frequency of green tea rinses to two to three times a week. The antioxidants in green tea can help stimulate hair growth and strengthen hair follicles.
Sensitive Scalp or Allergies:
If you have a sensitive scalp or known allergies to green tea, it's essential to be cautious. Perform a patch test before applying green tea to your entire scalp. If you experience any irritation, reduce the frequency of green tea rinses or discontinue use.
Everyone's hair is unique, and what works for one person may not work the same way for another. Paying attention to how your hair and scalp respond to green tea rinses is essential. If you notice any adverse effects or if your hair becomes overly dry or brittle, reduce the frequency of rinses or discontinue use for a while.
Additionally, you can combine green tea rinses with your regular hair care routine, using other natural products that complement its benefits. As with any new hair care practice, consistency and patience are key. Give your hair some time to adapt to the green tea rinses and observe the results over a few weeks.
Finding the right frequency of green tea rinses for your hair may require some trial and error. Listen to your hair's needs and adjust the frequency accordingly to achieve the best results and maintain healthy, beautiful locks.
What Are The Benefits of Green Tea Rinse?
Green tea rinse offers several benefits for hair and scalp health. Let's explore some of the key advantages of using green tea as a hair rinse:
Stimulates Hair Growth:
Green tea is rich in antioxidants, particularly epigallocatechin gallate (EGCG), which can help stimulate hair follicles and promote hair growth. By applying green tea directly to the scalp, the antioxidants penetrate the hair roots, promoting healthier and stronger hair growth.
Strengthens Hair:
The nutrients present in green tea, such as catechins and vitamins, help strengthen the hair shafts, reducing breakage and split ends. Regular use of green tea rinse can lead to more resilient and less brittle hair.
Reduces Hair Loss:
With its anti-inflammatory and antioxidant properties, green tea can help reduce hair loss by protecting hair follicles from damage caused by free radicals. It can also mitigate scalp inflammation, which is often linked to hair loss.
Improves Scalp Health:
Green tea has natural anti-fungal and antibacterial properties, making it beneficial for maintaining a healthy scalp. It can help combat dandruff, itchiness, and other scalp issues, creating a better environment for hair growth.
Adds Shine to Hair:
Green tea rinse can impart a natural shine to your hair, making it look healthier and more lustrous. This shine is a result of improved hair cuticles and overall hydration.
Balances Scalp pH:
Green tea can help restore the scalp's natural pH balance, which is vital for healthy hair growth. A balanced pH level ensures the scalp remains in an optimal condition, promoting strong and healthy hair.
Conditions Hair:
Green tea rinse acts as a natural conditioner, leaving your hair soft and smooth. It can help combat dryness and frizz, especially for those with dry or damaged hair.
Reduces Dandruff and Flakes:
The anti-inflammatory and antifungal properties of green tea can help soothe an itchy and flaky scalp, reducing the occurrence of dandruff.
Protects Hair from Environmental Damage:
The antioxidants in green tea protect hair from damage caused by environmental pollutants and UV radiation, preventing premature aging of hair and preserving its natural color.
Safe and Natural:
Green tea is a natural remedy, free from harsh chemicals and potential side effects associated with some commercial hair care products. It is suitable for most hair types and can be a gentle alternative to traditional hair care products.
It's important to note that while green tea rinse offers many benefits, individual results may vary. Factors such as hair type, scalp condition, and overall hair care routine can influence the effectiveness of green tea rinse. To experience the benefits fully, using green tea rinse consistently and as part of a holistic approach to hair care is essential. Additionally, if you have any specific allergies or sensitivities, it's advisable to perform a patch test before applying green tea to your entire scalp.
Tips for Applying Green Tea Rinse Effectively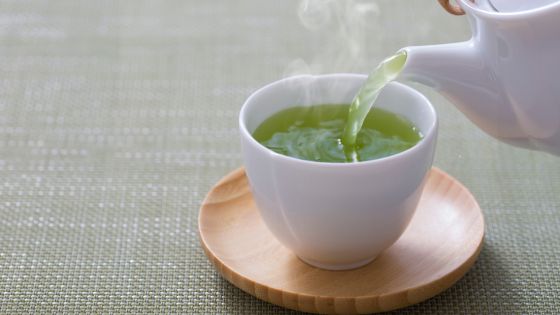 To get the most out of your green tea hair rinse, it's essential to apply it correctly. Start by washing and conditioning your hair with your regular hair care products. Once your hair is clean, gently pour the cooled green tea over your scalp, massaging it in with your fingertips. Be sure to cover all areas of your scalp and hair, allowing the tea to sit for a few minutes before rinsing thoroughly with water.
Potential Side Effects and Precautions
While green tea is generally safe for most people, there are some potential side effects and precautions to consider. Some individuals may be allergic to green tea, so performing a patch test before using it on your entire scalp is essential. Pregnant women and those with specific medical conditions should consult their healthcare provider before using green tea hair rinses.
Final Thoughts On "How Often Should You Rinse Your Hair With Green Tea"
Green tea is a fantastic natural remedy that offers numerous benefits for hair health. From its antioxidant-rich composition to its anti-inflammatory properties, green tea can effectively address various hair and scalp concerns. Incorporating green tea rinses into your hair care routine can promote healthier, stronger, and more vibrant locks.
Embrace the power of nature and discover how green tea can revolutionize your hair care journey. Remember to tailor the frequency of green tea rinses to your specific hair type and needs. With proper application and an understanding of its benefits, green tea may just become your new favorite hair care secret!
References