Kalank Movie Review
Release Date – 17th April 2019
Cast – Varun Dhawan, Alia Bhatt, Madhuri Dixit, Sanjay Dutt, Sonakshi Sinha, Aditya Roy Kapur & Kunal Khemu
Director – Abhishek Varman
Production – Dharma Productions, Fox Star Studios, Nadiadwala Grandson entertainment
Ratings – 4/5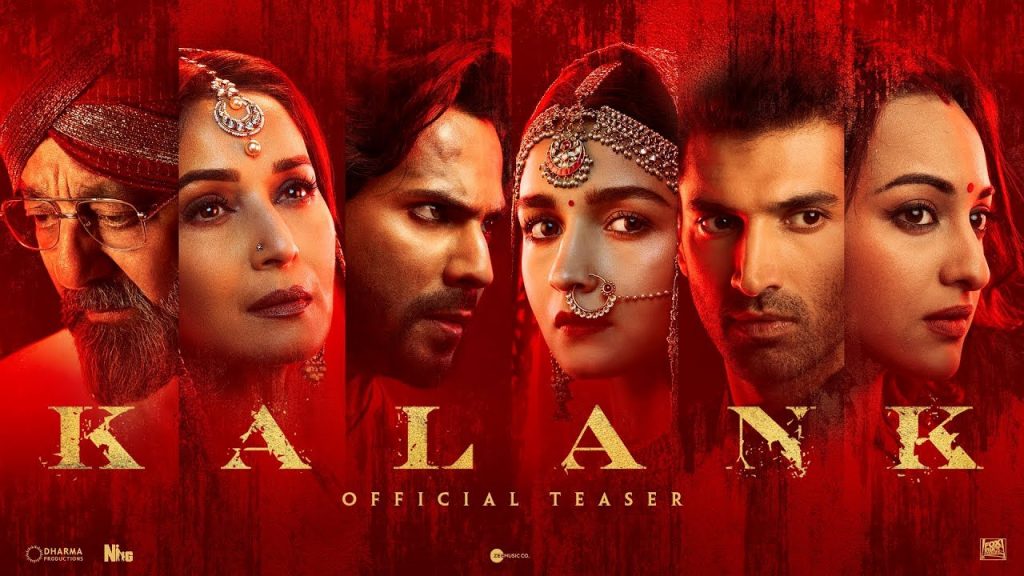 A dying wife Satya (Sonakshi Sinha) requests (or forces) a young girl from Rajputana to marry her husband because she wants her husband to be happy and not lonely after her death. Roop agrees on the condition that he has to get married to her now, and not after Satya's death.
This one mistake of her spoils many lives (says Roop herself while narrating her biography to an author 10 years later).
So this is the biography of the leading character Roop and the story takes us to the flashback in the pre-independence era. Set in 1945, the film is plotted over a place named Husnabad in Lahore, now in Pakistan.
She goes to Husnabad, gets married to Dev (Aditya Roy Kapur) without seeing each other's face. Mesmerized by the voice of Bahar Begum (Madhuri Dixit) she decides to start her riyaaz again.
To learn Music, she heads to the infamous lanes of Hira Mandi which is a red-light area. She meets Bahar Begum on the day of Dussehra and Zafar (Varun Dhawan) gets attracted to her with her beautiful voice while she sings in the kotha of Bahar Begum. Zafar is born and brought up in Hira Mandi, and knows that place very well. And so he helps Roop to discover this small town more closely.
Roop is fascinated with Zafar, but he has hidden motives to be with her.
Watch The Kalank Trailer Here – Courtesy Fox Star Hindi Youtube Channel
Ace actors Sanjay Dutt and Madhuri Dixit are excellent in their characters. Madhuri presents her excellent dancing skills through the song Tabaah Ho Gaye.
Read Here Preview Of Kalank
The first half is a bit stretchy but the second one is a real gem. Aditya Roy Kapur becomes extraordinary post interval. He speaks less and expresses a lot more than words can do. And the second half shows the Garm Hawa of partition and the stress of Hindu-Muslim issues. So the second half is something that adds life to the movie.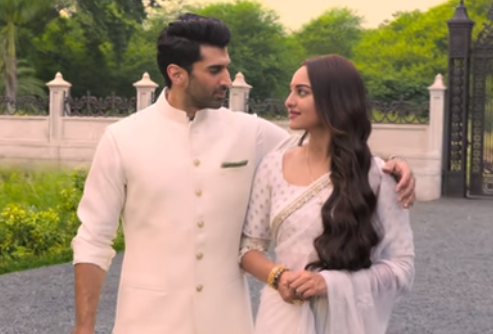 Aditya Roy Kapur and Kunal Khemu are playing much bigger characters than showed in the promos of Kalank. Sonakshi has a small but impressive role. Even Kiara Advani is not there for a mere item number, she has got few more scenes. These three characters are underestimated in the promos of the movie. Aditya Roy Kapur surely steals many hearts as Dev, whereas Kunal Khemu is unforgettable as cunning Abdul who is not bad initially but can go to any level to take revenge.
Alia Bhatt and Varun Dhawan display another beautiful love story after many of their movies together.
The film is a tangling of relations and emotions of six lives. And surely a visual extravaganza. The cinematography by Binod Pradhan is stunningly astonishing and the Dussehra scene is splendid.
The movie is filled with excellent dialogues by the leading characters. And one cannot forget Madhuri's wise advice to young Roop,
"mohabbat usse karein jo aapki izzat kar sake, aapki mohaabat ko aapse zyada mohabbat kar sake".
The writer-director Abhishek Varman has handled this movie gracefully. He has presented something grandeur and magnificent. And he deserves a great applaud.
This is the second release of Dharma Productions this year 2019. And it is going to be the second super hit movie of Karan Johar in 2019. Student Of The Year 2 (SOTY2) is set to release in May 2019 and if it is loved by the audience, then Dharma production and KJo are surely going to celebrate the hattrick. By The Way Yeh Movie First Class Hai.
Kalank Movie Review – FabZania gives 4/5 stars to this movie.

#Kalank #KalankMovieReview