Movie – Kesari
Release Date – 21st March 2019
Cast – Akshay Kumar, Parineeti Chopra, Rakesh Chaturvedi Om, Mir Sarwar
Director – Anurag Singh
Production – Dharma Productions, Zee Studios, Azure Entertainment, Cape of Good Films
Ratings – 4/5
The battle of Saragarhi was fought between Sikh soldiers of the British Indian Army and Afghan tribesmen (Pashtun Orakzai) on 12th September 1897. And just 21 Sikh Soldiers fought with an army of 10000 Afghan troops. Based on this inspiring story, the movie Kesari delivers an unexpected reel of the real-life battle.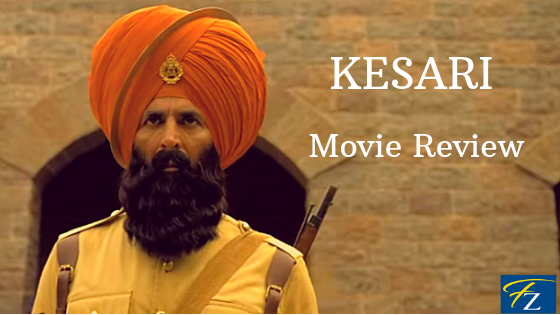 Havildar Ishar Singh (Akshay Kumar) is one brave Sikh soldier who cannot bear any kind of injustice happening around. He leads 36th Sikh regiment of the British Indian Army. On 12th September 1897, the Afghan soldiers try to capture Saragarhi which was a signalling post between Fort Lockhart and Gulistan. The troop of 21 Sikh soldiers put up a brave fight against a massive number of Afghan soldiers.
This true story got lost somewhere in the pages of history. But Kesari takes us to the LIVE battlefield and makes us feel the war. Some emotional touches in the story make us feel for the soldiers. The movie is a great blend of action and emotion.
The film is elegantly shot by Anshul Choubey. And he makes the audience feel the splendid epic war drama. The costume, the screenplay and the editing, everything makes the movie a top-notch experience.
What makes it an outstanding film is the script and the dialogues of the movie. It has a well-knitted package of humour, drama, action, tragedy, and emotion.
The Sikh pride and Islam's teachings, both the parts are exhibited with a lot of respect towards both religions. The film is plotted around the prime protagonist Havildar Ishar Singh played by Akshay Kumar. He is represented as a patriotic Sardar who is tough but has an emotional side too.
Akshay Kumar is undoubtedly the soul of the entire film. He portrays the heroism of Havildar Ishar Singh brilliantly. He remains flawless in his dialogues and expressions. But the other Sikh Soldiers and the Afghan enemies are not less than the hero itself.
Soldier Chanda Singh's angry persona with a soft heart, Gurmukh's fears, Lal Singh's emotions attached to his young daughter's palm prints and another soldier's past haunts him due to casteism. All of them leave a remark in your heart.
No one can forget a small impressive role of an Afghan Spinner who is a eunuch played by Bhawani Muzamil. His gorgeous makeup and cunning smile are simply striking.
And the climax is something that takes your breath away. The last scene where the young sepoy Gurmukh stuns everyone with his unexpected act will make you shout wholeheartedly, "Jo Bole So Nihaal, Satshree Akaal". And this scene steals the show.
Parineeti Chopra has a small but impressive role in this historical drama. And Rakesh Chaturvedi Om, portraying extremism remains unforgettable.
Overall this film remains in your mind and heart. You leave with a great experience of a war drama based on true events and which was untold and unheard till now.
#KesariMovieReview #EpicMovies #AkshayKumar #RangDeKesari #DharmaProductions #AnuragSingh