Maharashtra, the state that has earned name and fame for having every kind of vacation destinations. It has some of the best hill stations like Lonavala and Mahabaleshwar, historical places like Ajanta-Ellora and beach destinations like Tarkarli, Ganpatipule and many more.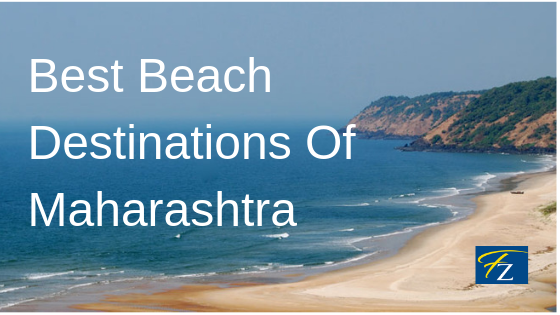 Here is the list of some of the amazing and serene beaches of Maharashtra which are top attractions for summer holidays in Maharashtra.
1. Kelva Dahanu Bordi Gholvad Beach –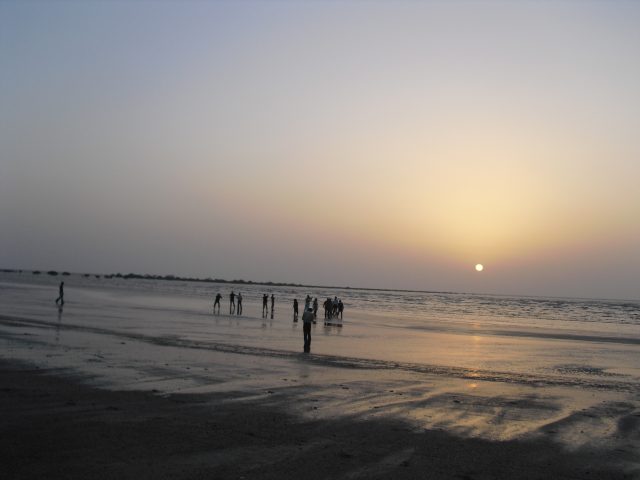 Dahanu is a nearby beach destination for Mumbaikars. Kelva beach is one of the best weekend getaways from Mumbai. Kelva, Dahanu, Bordi, and Gholvad are spread in one stretch and are at half an hour drive from each other. Bordi – Gholvad are very famous places for the best quality chikoo (Sapota).
These beaches are serene. Gholvad is less crowded than Kelva and Bordi. If you want to enjoy sports activities, then Bordi is the place where you can indulge in paragliding and trekking to the nearby Asherigad, Kahoj, and Mahalakshmi.
Dahanu's Mahalakshmi Temple is always very crowded by the devotees and it is praised like Kolhapur Mahalakshmi Mandir. People staying around Dahanu and Mumbai frequently visit this pilgrimage place.
2. Shrivardhan

Konkan is definitely an undisputed king of beach destinations of Maharashtra. Shriwardhan is a small town of Konkan situated at Raigad district. It has a serene beach and has become the most popular beach destination near Mumbai and Pune.
3.Harihareshwar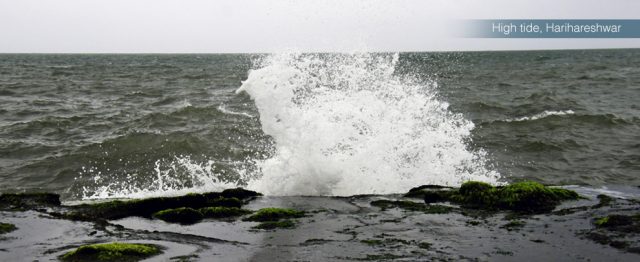 Harihareshwar is another nearby town that has a beautiful beach and one can visit this beach along with Shriwardhan within a day. It is just 200 km from Mumbai and one of the most beautiful beaches in India.
Harihareshwar is well known for its ancient Shiva temple and it is also known as Kashi of South. It is a great combination of leisure and spiritual trip in Maharashtra.
4. Kunkeshwar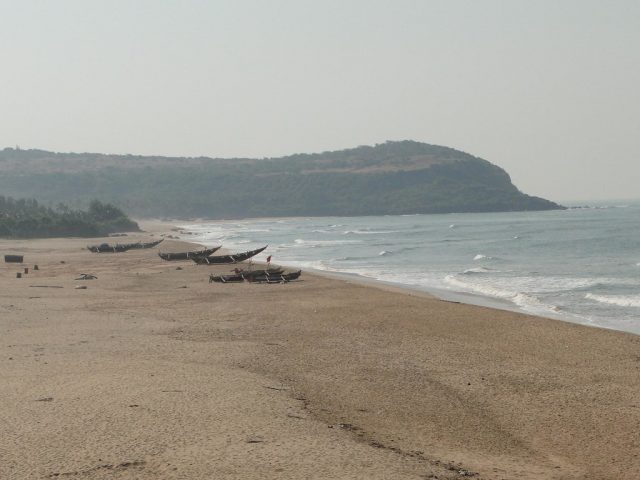 This 5 kilometers long beach is known to have clear blue water that attracts every beach lover. It is located near the spiritual hub Kunkeshwar temple. The nearest railway station to reach Kunkeshwar is Nandgaon which is well connected to Mumbai by Konkan Railway.
5. Harnai – Murud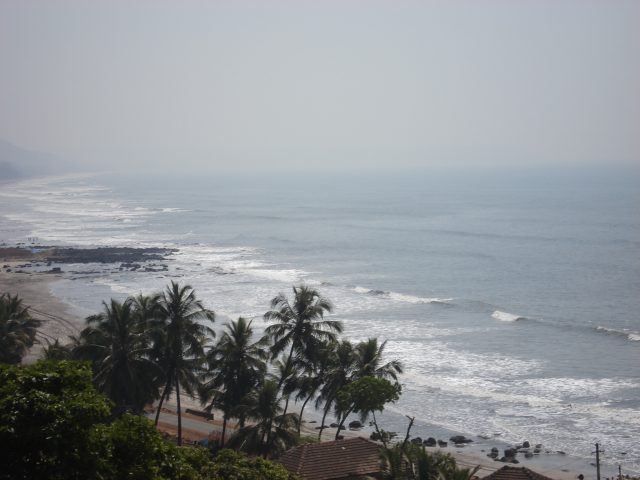 Located at the Dapoli Taluka, Harnai and Murud are two small villages which are loved by the tourists for having clean and serene beaches. And the place attracts tourists all year round. One should visit the nearby forts like Suvarndurg and Kanakdurg which adds to the glory of Konkan and Maharashtra.
6. Dapoli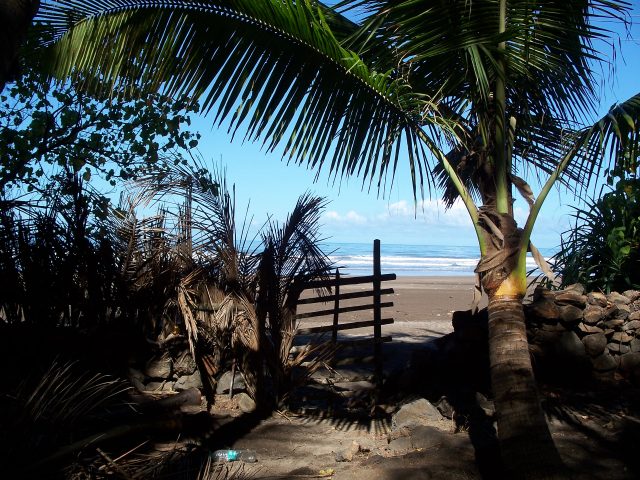 Dapoli as a Taluka consists of several beaches including Harnai and Murud. Apart from these two beaches, Dapoli has some more like Karde beach, Ladghar Beach, Kelshi, Savane, Kolthare, Tamastirth, Anjarle (Known For Turtle Festival), etc. One can say Dapoli is heaven for beach lovers. One should not miss the Fishmarket and seafood of Dapoli. They are kind of treats on their own.
7. Diveagar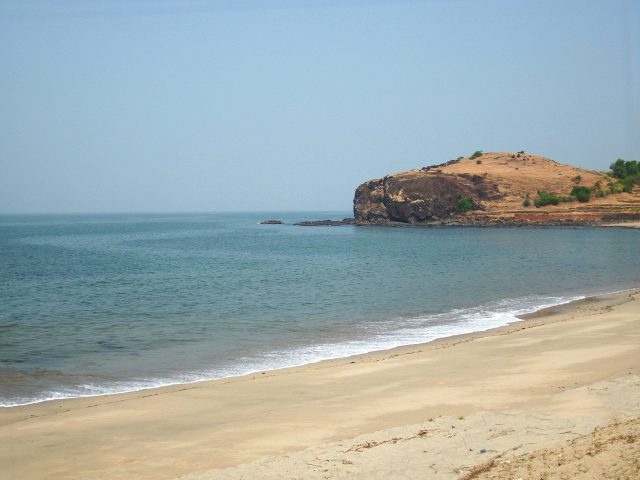 Located at Shrivardhan Taluka, Diveagar is a place getting known for its Suvarna Ganesh Temple (The original Ganesha idol got stolen in the year 2012 and now replaced with a silver idol) and the enchanting beach of Diveagar, One would have a spiritual beachcation along with sumptuous food of Diveagar.
8. Kihim and Kashid – Alibaug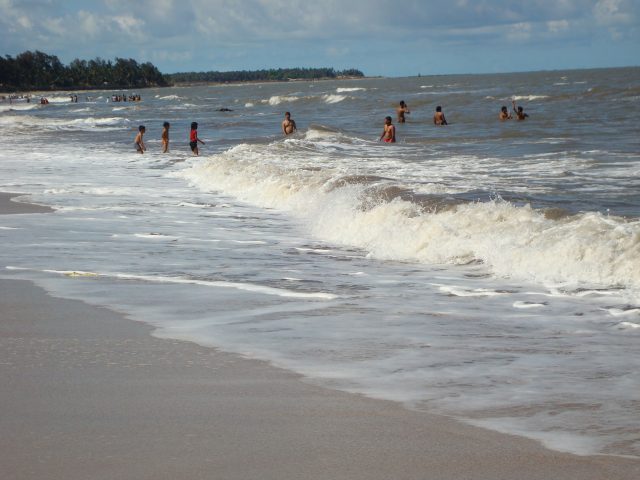 Alibaug is a preferred weekend destination of Mumbaikars. You can take a ferry from Gateway of India to Mandawa port that takes around 45 minutes to reach Mandawa. And from Mandawa, you can take rickshaw or Bus to reach beaches like Kashid and Kihim. These beaches are a bit crowded on weekends. Kihim beach is definitely a cleaner one than Kashid. Many MTDC resorts have budget stay option and they serve delicious seafood and one should not miss the solkadhi they serve along with the fish thali.
9. Tarkarli Beach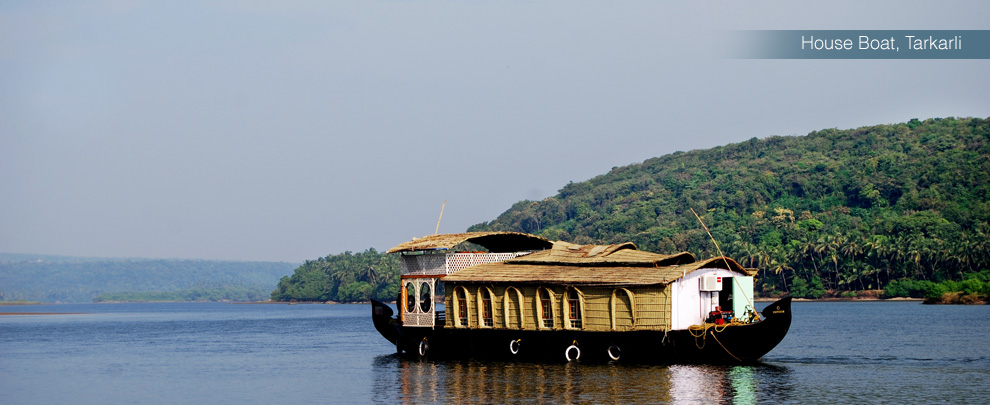 Tarkarli is one of the most loved beaches of Maharashtra for adventure and travel lovers. In recent years, the place has earned name and fame for Houseboat, Scuba diving and Snorkeling in Tarkarli. It is the flag bearer of the watersports and activities in Sindhudurga and Maharashtra.
10. Vengurle / Vengurla Beach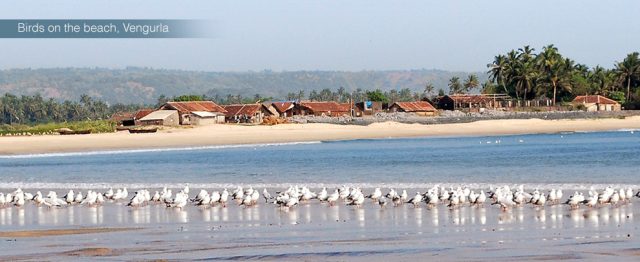 Vengurla is a small but picturesque village located at Sidhudurg District. Situated at a distance of 110 km from Goa, this beach attracts travelers; humans and birds too. You can sight hundreds of seagulls at a time at this beautiful beach of Konkan.
11. Ganpatipule Beach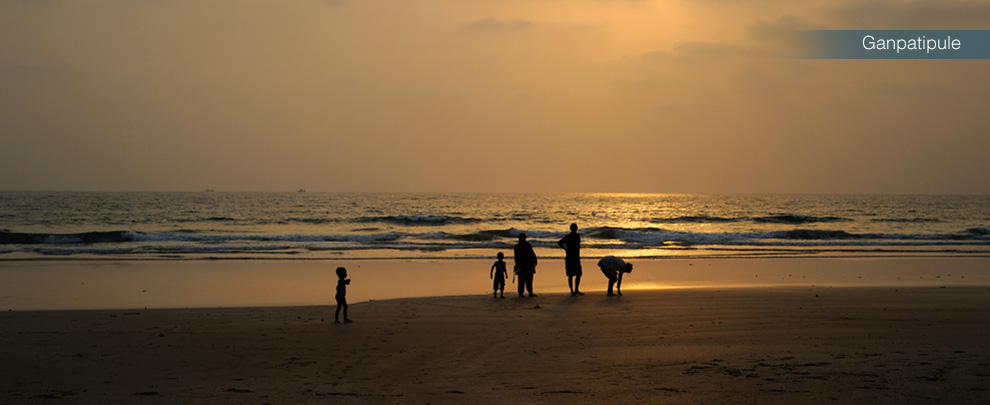 Ganpatipule is definitely a famous spiritual place due to the very famous Swayambhu Ganpati temple which is said to be approx 400 years old. The temple's well-known feature is that it faces west, while most of the temples have idols facing East. You can witness the mesmerizing view of sun rays touching the Ganesha idol at the time of Sunset. And the beach is located just outside of this beautiful Ganesha temple.
12. Velneshwar Beach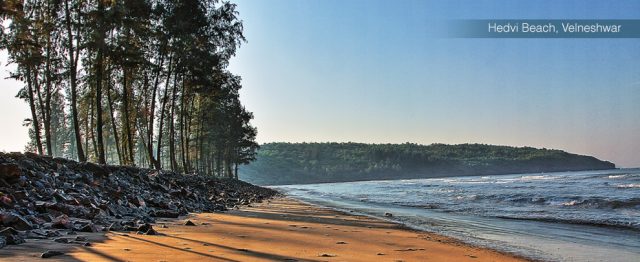 The one who wants to visit a serene, picturesque but less crowded beach should definitely plan a trip to Velneshwar beach. This place is far away from urban chaos and maddening crowd. The tranquility of this place is something a traveler would love to get lost in.
13. Aare Ware Beach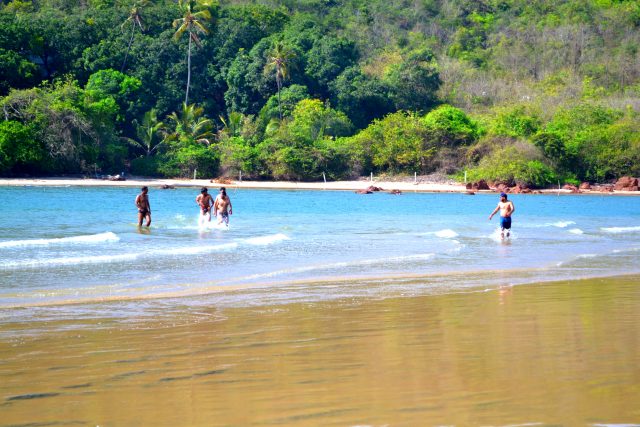 Aare Ware is getting noticed not just for its beautiful exotic beach, but also for the road that goes to Aare Ware is something to experience truly. The curves of the road take you to an unforgettable journey of a beautiful road trip. This place is hardly 7 kilometers away from the Ganpatipule Temple. And you can definitely visit both the beaches in one day.
14. Guhagar Beach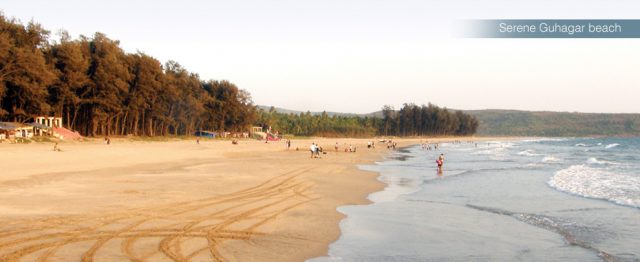 Guhagar has a calm, serene, splendid, and exotic beach that attracts the beach and nature lovers. clear blue water and clean beach front is something that is loved by the travelers and they crave to visit this tranquil place again and again.
15. Ladghar Beach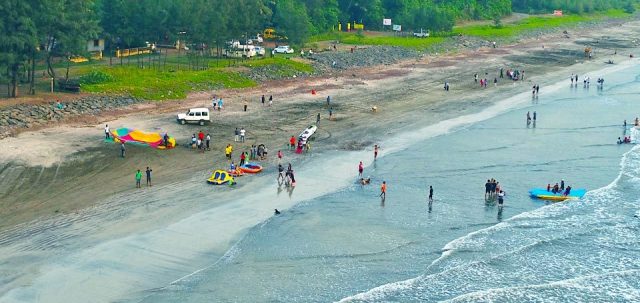 Another gem of Dapoli Taluka, Ladghar beach is a strikingly picturesque beach destination. This beautiful and gorgeous beach haven is catching the eyes of the people from nearby cities like Mumbai and Pune. And people cannot forget the beauty and placidity of this beach.
16. Velas Beach – Well Known As Turtle Beach Of Maharashtra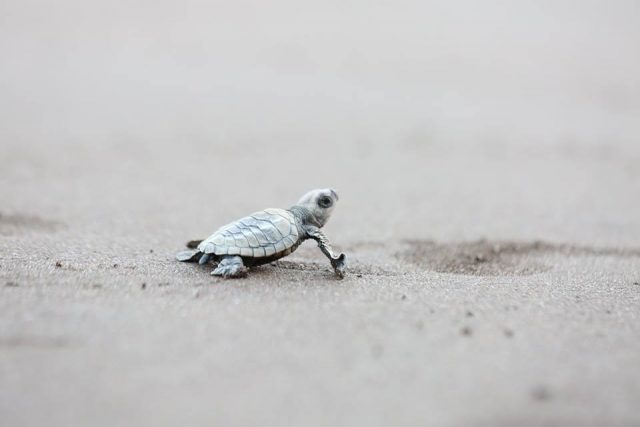 Last but not least, Velas beach is a shining diamond of all the beach destinations of Maharashtra. It stands out of the crowd because of the Turtle Festival of Velas which is held every year during the hatching period of turtles. During this period all the tiny and large turtles come to the beach and this is an unforgettable view of hundreds of turtles gathering on the beach.
Anjarle and Velas, these two beaches host the Turtle Festivals In Ratnagiri during the months of Feb, March, and April. The best time to go is in the month of March.
This beach accounts for 40% of sea turtles that nest along Maharashtra coast.
For more info on Velas and Anjarle Turtle Festival – http://velasturtlefestival.com/
These are some of the best Beach Destinations of Maharashtra that you must plan to visit soon. We must say that all the places of coastal Maharashtra have God gifted beauty. And every traveler and nature lover should visit these heavenly destinations for sure.
Have we missed any of the best beaches, kindly let us know.