Simple Living Tips – Essential Rules To Live A Simple Life
Do you believe that your life is becoming progressively more difficult? And fierce to have a straightforward, tranquil existence that you may genuinely enjoy? These are 19 guidelines for leading a simple life.
I've developed a passion for a modest existence over the years. Although simple life is typically connected with minimalist living, in my opinion,
Living simply is having plenty but still have goals. While living life to the fullest, one should be conscious of the factors that make it more difficult.
I, therefore, wish to give some guidelines for leading a simple life. These areas in our lives frequently generate the most complications, and a straightforward modification in them can work wonders!
What are the best rules to have a simple life?
In all honesty, there might be a lot of guidelines for living simply or simply no restrictions if you want to live your life how you want to.
However, guidelines occasionally promote discipline, making life simpler by reducing complexity. You can establish your own guidelines to assist you to have a straightforward and contented life!
21 Rules to live a simple life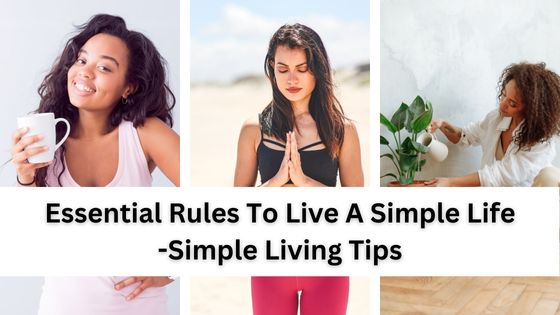 1. Always follow a daily schedule
Although a daily schedule is essential to life, many of us do not take it seriously. Following a regular regimen can either make your life simpler or more complicated. Observe your current daily schedule and think about it.
Look at your lifestyle. Do you have a daily routine? A simple routine that makes your life easier and helps you?
Or is it your habit that makes life difficult for you? possibly sleeping in and having trouble getting to work. Lack of sleep causes yawning during the entire meeting.
You skip breakfast since you're running late and lack the energy to be productive. Similar to how many little things in a habit might cause stress.
In addition, having a daily schedule is essential for productivity and success. Our bodies like routine and function best in this environment.
Follow a productive morning routine to get the most out of your day.
2 Prioritize relationships and experiences over material possessions
It's important to remember that relationships and experiences are more important than material possessions. Having a strong connection with the people in your life and looking back on your experiences can be far more valuable than any material item.
Prioritizing relationships and experiences over things can bring a deeper sense of fulfillment and appreciation for the people and moments in your life.
3 Practice mindfulness and gratitude
Practicing mindfulness and gratitude can be a very powerful way to improve your overall well-being. Taking the time to be mindful and express gratitude can help you become more aware of the present moment and appreciate all the good things in your life. Here are a few simple ways to practice mindfulness and gratitude:
Take a few minutes each day to pause and be present in the moment. Focus on your breathing and notice the sensations in your body.
Take note of the things you're grateful for each day. It could be something big, like having a roof over your head, or something small, like a kind gesture from a friend.
Make mindfulness and gratitude a part of your daily routine. Set aside some time each day to practice mindfulness and express gratitude.
By incorporating mindfulness and gratitude into your daily routine, you'll be able to reap the benefits of being more present in the moment and appreciating all the good things in your life.
4 Live within your means and save for the future
Living within your means and saving for the future is essential for financial success. Start by setting a budget and tracking your spending. Set aside a certain amount of money each month to save, and make sure you stick to it.
Make sure to pay off any high-interest debt as soon as possible. Investing in a 401(k) or IRA can help you save for retirement, and you can always look into other options to diversify your investments. Planning for the future can be intimidating, but it pays off in the long run.