Mumbai and the Street Food go hand in hand. Both are incomplete without each other. One may forget being on dieting if sees Vada Pav, Falooda, or Chaat stalls. The mouthwatering delicacies tempt one and all.

1. Vada Pav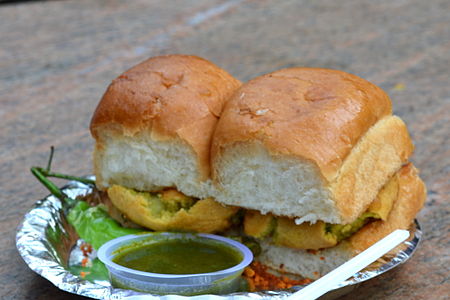 Vada Pav always tops the list of Street Foods In Mumbai. Vada pav is deep fried potato dumpling covered with savory gram flour (Besan) mixture and it is kept inside a Pav (bread Bun) and served with garlic chutney, green chutney, and sometimes with a sweet chutney too. It is said to be invented by Ashok Vaidya in the year 1971. It was known to be the cheap street food of Mumbai, but it is loved by all. From the masses to the classes, you will find vada-pav almost everywhere in Mumbai.
It is also known as Mumbai's Burger or Indian Burger because it looks like a burger. Light on the pocket and heavenly on the tastebuds, you try it once and will never be able to forget its taste.
2. Paani Puri And Other Chaat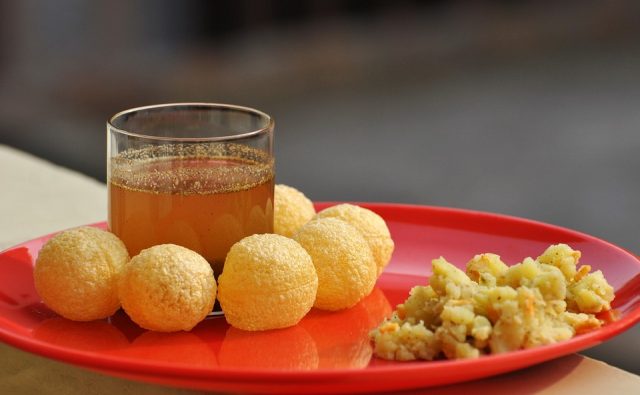 Chaat is one of the most favourite street food of Mumbaikars, and now it is served in the fine dines too. Bhelpuri, Sev-Puri, Ragda Pattice, and Panipuri are some of the items included in the street chaat. And Panipuri tops this chaat list always. These puris are made with suji (semolina) and they are filled with boiled and mashed potatoes, some sprouts, boondi and sweet n sour water made with mint, tamarind, dates etc. This water tastes heavenly.
3. Pav Bhaji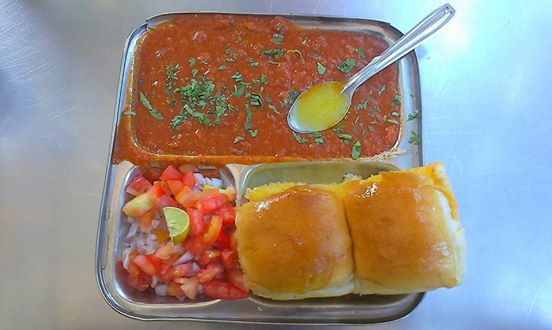 You will find this Pav bhaji or Mumbai Bhaji Pav at every corner of the food streets of Mumbai. The bhaji is a kind of curry that is made with mashed potatoes and other vegetables like tomato, onions capsicum and green peas. This curry is ideally made with pure butter and is served with some extra butter on the top. Served along with Chopped onions and Pav (bun bread) and even the Pav is loaded with butter and butter. Don't feel guilty of getting lost in the buttery food journey. This street food of Mumbai is highly delectable.
4. Bombay Sandwich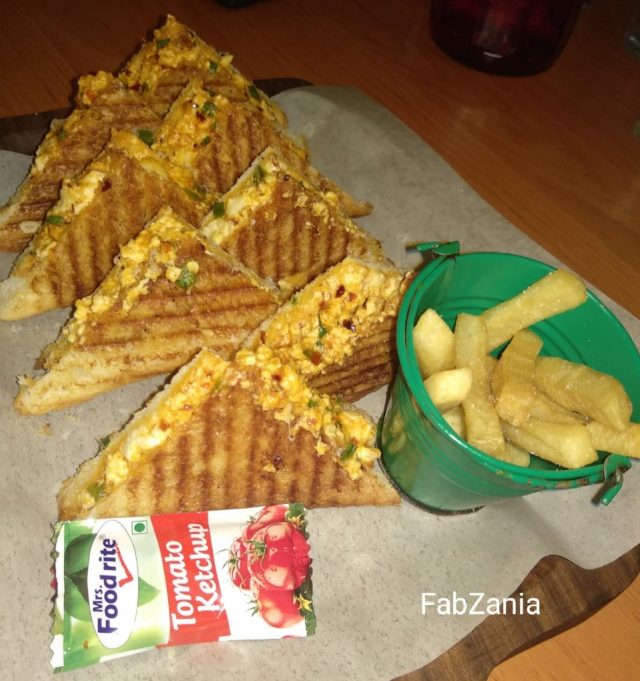 The sandwich is a global food, but a Bombay masala sandwich is not common at all. It is stuffed with cucumber, onions, tomatoes and made with special green chutney. Roasted with butter and served with some more chutney and ketchup. Some versions of these sandwiches are Cheese chilly toast, paneer grill sandwich, cheese grill sandwich and you may find hundreds of variations of a humble sandwich around the city. Enjoy the hot n spicy sandwiches when you are in Mumbai.
Some of the sandwich specialists of Mumbai that serve several kinds of sandwiches are Mamaji sandwichwala (Tardeo), Akkad Bakkad Bombay Boo (Kandivali), Lucky Sandwich (Vileparle). You must visit them to enjoy Desi sandwiches.
5. Dabeli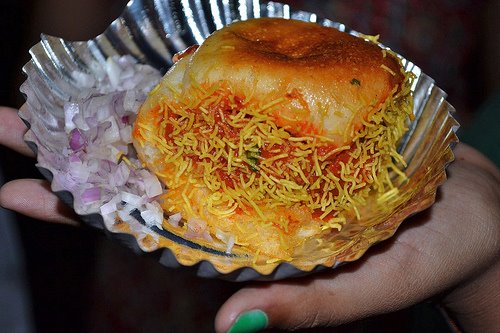 Dabeli is not a food of Mumbai origin. It came to Mumbai from Kutch, Gujarat and is popularly known as Kutchi Dabeli. It is a bun pav (bun bread) stuffed with sweet and spicy mashed potatoes along with pomegranate seeds, fried peanuts, sev and preferably made with Amul Butter. Dabeli is served with some chopped onions and fried peanuts. It is surely heavy on tummy but super light on the pocket as a single piece is sold for 12-15 Rupees generally.
6. Gola And Malai Gola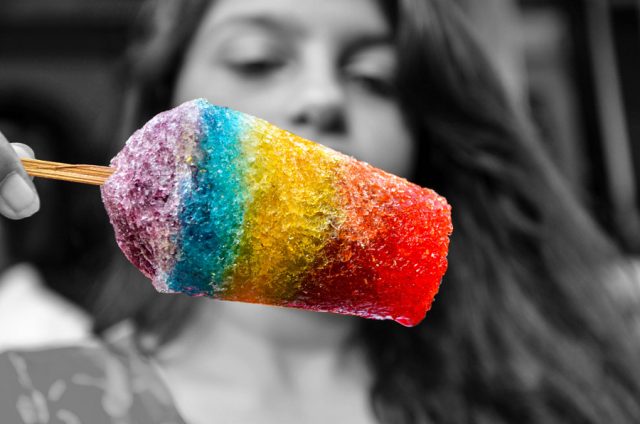 Gola or ice gola is one of the most favourite street foods during the hot summers of Mumbai. It is made with crushed ice and some sweet syrups are poured on it. Served with some extra syrup, it is fun to slurp this ice gola and the syrup. You will find it in many flavours like orange, mango, rose and kala khatta.
And here is another version of a regular Gola, Malai Gola…..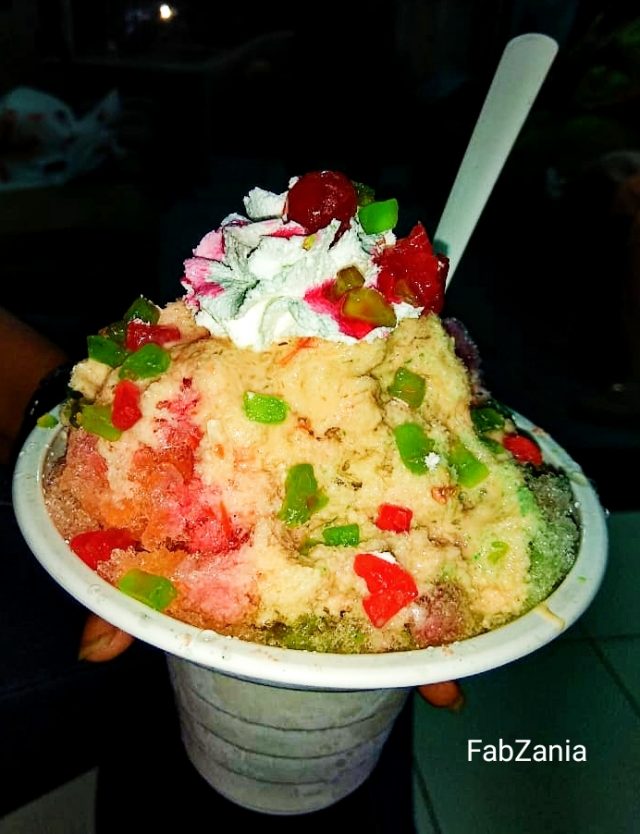 These days Rajkot's famous malai gola is found on the streets of Mumbai. Malai Gola is a chunk of crused ice served in a bowl or glass and cream and syrups are poured onto the ice. Served with tutti-frutti and whipped cream, this version of Gola is becoming favourite of Mumbaikars during summers.
7. Chinese Food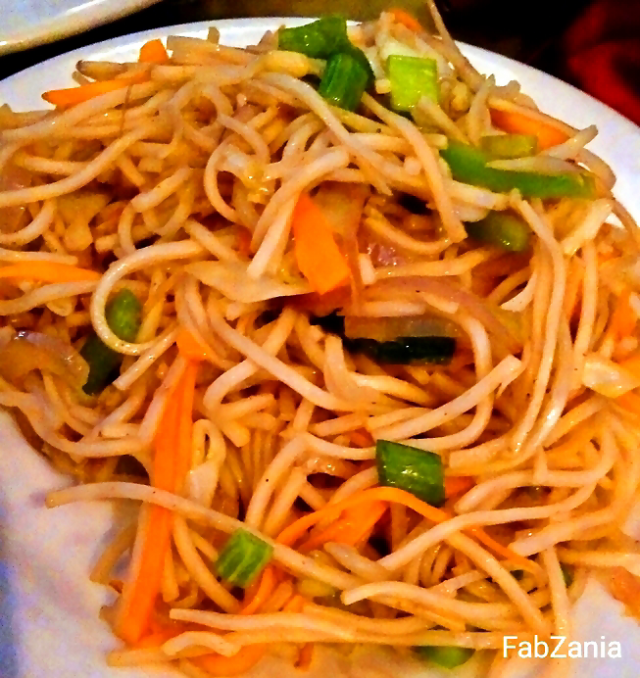 The Indianized Chinese food has become a beloved food of India. And you will find ample of Desi Chinese food stalls in Mumbai. They serve scrumptious Fried Rice, Noodles, Soups, Manchurian and some more Chinese starters to please your taste buds.
8. Bun Maska And Chai

The bun Maska and Chai combo is loved by the Mumbaikars. A bun bread sliced into two and is amply laden with a chunk of butter. It tastes the best with a Mumbai cutting chai or Irani chai with malai. Many Irani restaurants and some Nagori Chaiwalas serve this heavenly combination of bun maska and chai to please your palets.
9. Masala Corn And Bhutta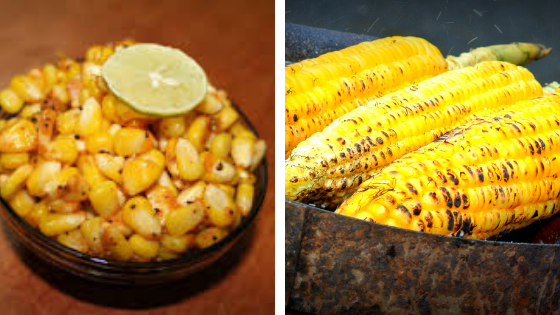 Boiled sweet corn with added lemon juice, chaat masala, butter and sometimes cheese; masala corn is found at many places in Mumbai. And the bhutta is mostly available during the monsoons. Bhutta is corn on the cob that is roasted in charcoal and some spices and lemon juice mixture applied on it. This makes one of the most favourite monsoon snacks for Mumbaikars.
10. Variety Of Dosa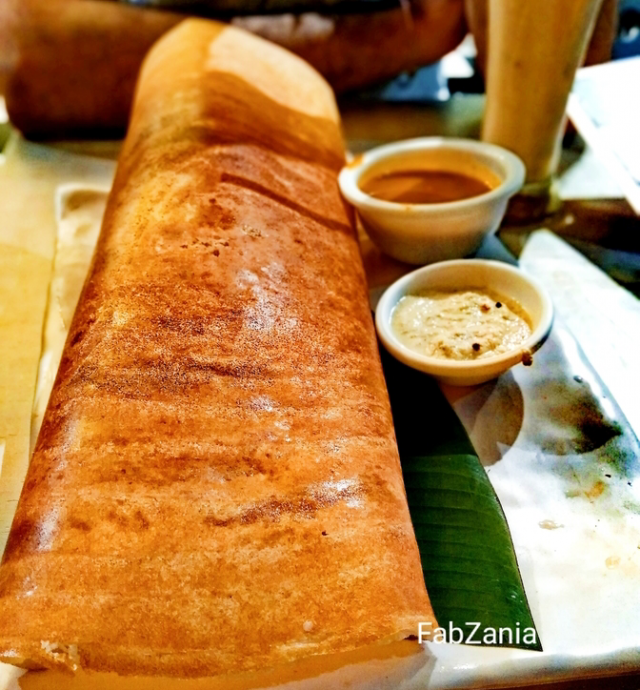 Dosa is a South Indian delicacy which is loved by all the Indians and is easily available on streets and restaurants. Dosa is a kind of crêpe and is made with a fermented batter made of lentils and rice mixture. Served with Chutney and Sambar, you may find hundreds of variety of dosas on the streets of Mumbai.
11. Idli Vada Sambar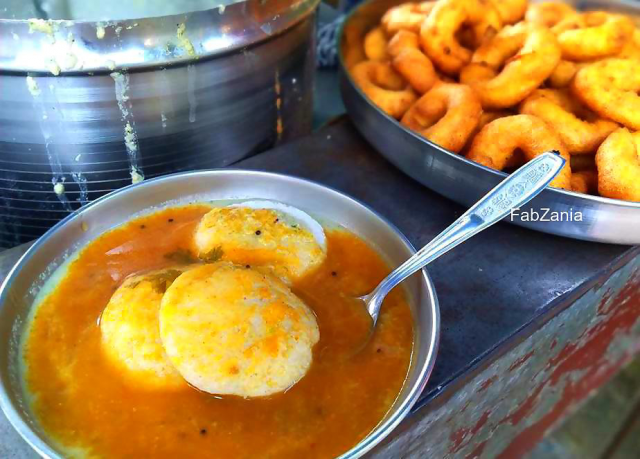 Idli Sambar and Vada sambar are some other South Indian delicacies that are commonly found on the street food stalls in Mumbai. Idli is a rice cake and is a preferred breakfast street food in Mumbai. Medu Vada is made with black gram dal and is deep-fried, and Dal vada is a mixture of various lentils and contains onions and some spices.
Idli, medu vada and dal vada are served with piping hot sambar and coconut chutney.
12. Falooda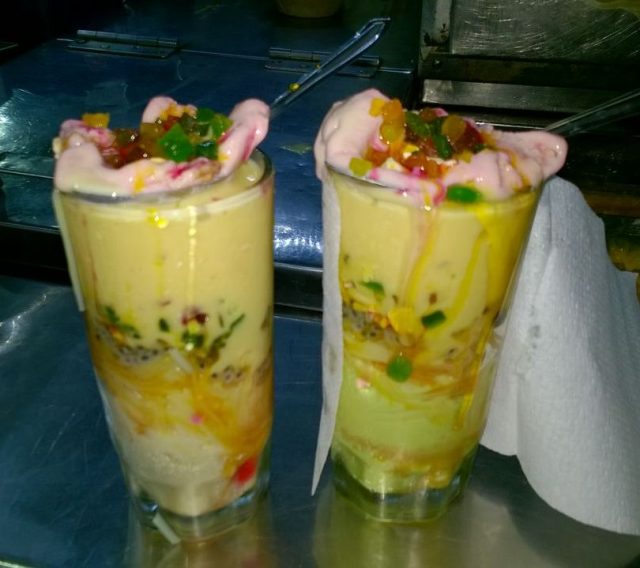 Falooda is a milk dessert and is served chilled. It is made with Rose or Saffron syrup, vermicelli, soaked sabja seeds (sweet basil seeds) and is topped with a scoop of ice cream or kulfi (kulfi falooda), tutti-frutti and dry fruits like cashew nuts.
Yaadgaar Falooda (Bandra), Baba Falooda (Mahim), Bachelorr's (Girgaon, near Charni Road Station), Badshah Falooda (Crawford Market) are some of the best Falooda sellers in Mumbai.
13. Frankie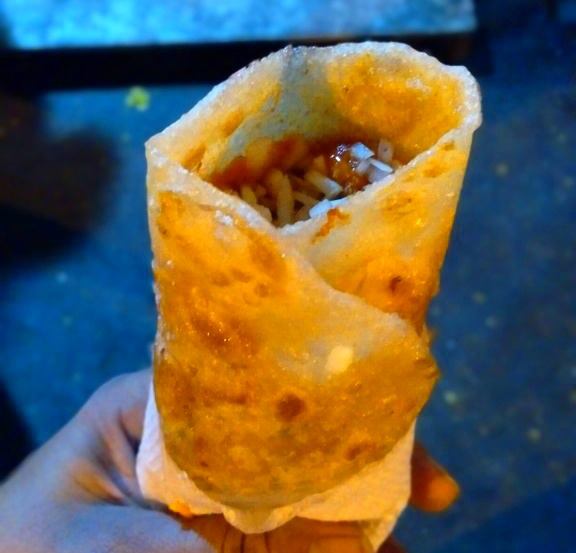 Frankie is a popular but pocket-friendly version of wraps and loved by Mumbaikars. Similar to Kathi rolls of Kolkata, these wraps are stuffed with mashed potatoes, onions, capsicum, cheese and paneer.
You will find many variants like schezwan frankie, manchurian, noodles, paneer on the frankie stalls in Mumbai.
14. Kebabs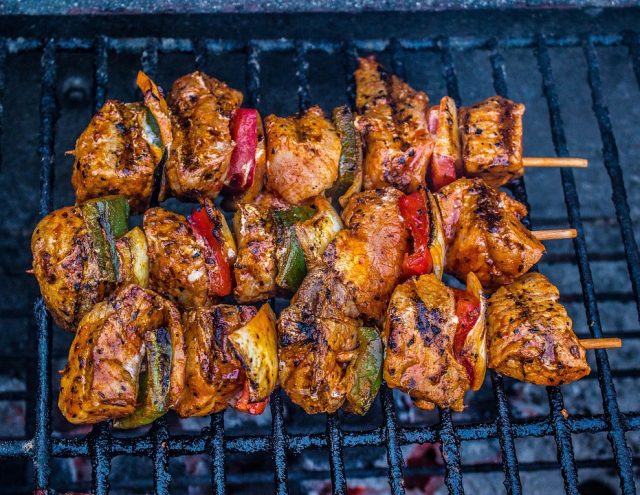 Kebabs are the chunks of meat and some vegetables marinated with a special spice mix and are cooked on a skewer over charcoal and fire. They are not rare to be found in the street foods of Mumbai.
You must visit Mohammed Ali Road during the month of Ramzaan / Ramadaan to have delicious Kebabs in Mumbai.
15. Bhurji Pav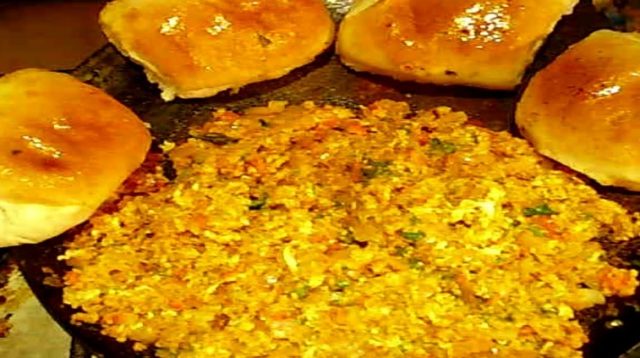 Last but not least is Bhurji-Pav which another delicious street food in Mumbai. Bhurji is kind of scrambled eggs but not the scrambled eggs. It is a mixture of onions, tomatoes, and eggs along with some spices. It is served with pav (bun bread) and easily found at any khau gully of Mumbai.
You can have best bhurji pav at Qutuz Irani Cafe (Malad), Mohd Naseer Bhurji Pav wala (Irla), Choudhary Bhurji (Borivali), Andawala (Borivali) etc