20 Clear Signs He Doesn't Want You Sexually!
Have you found yourself feeling low in your relationship, wondering why he shows no interest in you anymore?
I understand how deeply confusing and painful it can be when your partner's interest in sex seems to dwindle. It's like a cloud of uncertainty that hovers over your relationship, leaving you with countless questions and concerns.
You might find yourself wondering, "Why doesn't my boyfriend want to have sex with me anymore?" It's a natural question to ask, especially when society often portrays men as always wanting sex. This can lead to self-doubt, making you question your own attractiveness and worthiness. The fear of infidelity may also creep in, fueling your worries.
But please know this: a drop in your partner's sex drive doesn't necessarily reflect on you or the strength of your relationship. There are many potential reasons for this change, and they often have nothing to do with you. Stress, health issues, medication, emotional struggles, and even simple changes in life circumstances can all play a role.
Here are some clear signs that your boyfriend isn't interested in you sexually.
Why would a guy reject you sexually?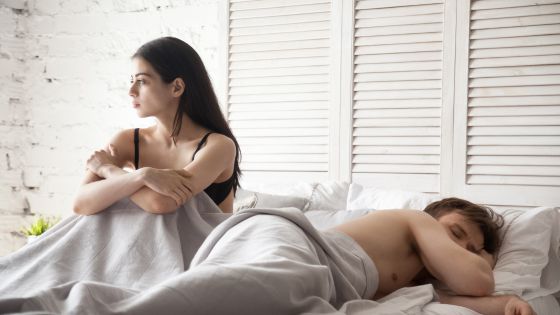 A person may reject sexual advances or intimacy for a variety of reasons, and it's essential to recognize that these reasons can be complex and personal. Here are some common reasons why a guy might reject someone sexually: (Signs He Doesn't Want You Sexually)
Lack of Desire: Sometimes, a person may not be in the mood for sexual activity at a particular moment. This lack of desire does not necessarily reflect on their partner or the relationship but may be influenced by factors such as stress, fatigue, or other emotions.
Emotional or Relationship Issues: Problems within the relationship, such as unresolved conflicts, trust issues, or emotional distance, can lead to a lack of interest in sexual intimacy.
Physical or Health Factors: Physical health issues, medical conditions, or medications can affect a person's ability or desire to engage in sexual activity. This can include issues like erectile dysfunction, pain during sex, or decreased libido due to medication side effects.
Stress and Anxiety: High levels of stress or anxiety can significantly impact one's ability to engage in sexual activity. Stress can manifest physically and mentally, making relaxing and enjoying intimacy difficult.
Personal Insecurities: A person may have personal insecurities related to body image, performance anxiety, or past experiences that make them hesitant to engage in sexual activity.
Communication Problems: Sometimes, there may be a lack of communication between partners about their sexual desires, boundaries, or preferences. This can lead to misunderstandings and hesitancy.
Emotional Trauma: Past trauma or negative experiences related to sex or relationships can lead to a fear of intimacy and sexual rejection.
Shifts in Attraction: Over time, a person's feelings of attraction can change, and they may not feel as physically attracted to their partner as they once did.
Relationship Dynamics: Changes in the dynamics of the relationship, such as becoming more like friends than romantic partners, can lead to a decrease in sexual desire.
External Factors: Life events, such as financial difficulties, family issues, or work-related stress, can take a toll on a person's sexual interest.
Personal Choices: Sometimes, personal choices or values, such as celibacy, abstinence, or asexuality, can result in a rejection of sexual activity.
It's important to address any concerns or issues related to sexual rejection through open and empathetic communication with your partner. Understanding each other's feelings and needs, seeking professional help when necessary, and working together to find solutions can help maintain a healthy and satisfying sexual relationship. Additionally, consent and boundaries should always be respected in any sexual relationship, and no one should ever feel pressured into engaging in sexual activity.
20 Clear Signs He Doesn't Want You Sexually!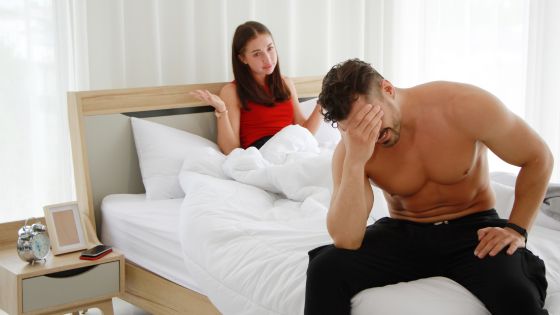 It can be incredibly disheartening when you sense a lack of sexual interest from your partner. It's important to remember that these signs are not definitive proof, but they may indicate that your partner is not currently interested in a sexual relationship with you. Here are 20 clear signs to consider, along with explanations for each: (Signs He Doesn't Want You Sexually)
Limited Physical Contact: If your partner avoids physical touch, such as hugging, kissing, or cuddling, it may suggest a lack of sexual interest.
Rare or No Initiatives: When your partner rarely or never initiates sexual activity, it can be a sign they are not inclined toward it.
No Flirting: The absence of playful or flirtatious behavior may indicate their disinterest in a romantic or sexual relationship.
Emotional Distance: A significant emotional gap or their reluctance to share personal feelings can signal a lack of sexual connection.
No Sexual Compliments: It might indicate a loss of interest if they don't compliment your physical appearance or attractiveness.
Avoids Alone Time: Refusing opportunities to spend time alone together can be a clear sign of disinterest in intimacy.
Minimal Eye Contact: Reduced eye contact during intimate moments may suggest discomfort or lack of interest.
No Sexual Innuendos: The absence of any suggestive or sexual comments may point to a lack of desire.
Avoidance of Sexual Topics: If they consistently steer away from discussing sexual matters, it could signify their reluctance.
Lack of Enthusiasm: A general lack of enthusiasm or passion in your relationship might extend to the bedroom.
Distraction During Intimate Moments: If they frequently appear distracted or unengaged during intimate times, it could be a sign of disinterest.
Talks About Other Romantic Interests: Openly discussing or showing interest in other potential partners may indicate their focus elsewhere.
Rejection of Advances: If your advances are consistently met with rejection or avoidance, it's a clear sign they're not interested.
Disinterest in Your Life: Showing little curiosity about your life or well-being may suggest they're not invested in your relationship.
Frequent Cancellations: They often cancel plans or find reasons to avoid spending time together.
Avoids Deep Conversations: Steering clear of discussions about personal matters can create emotional distance in the relationship.
Minimal Effort to Impress: They don't make an effort to dress nicely or do things that might attract you.
Engages With Others: They seem more interested in or attentive to other people, especially of the opposite sex.
Talks About Future Without You: Conversations about the future that don't include you may indicate a lack of commitment.
Open Communication: They may have directly communicated their lack of sexual interest or their desire to maintain a platonic relationship.
Remember that these signs are not definitive proof, and there can be various reasons for changes in sexual desire. Open and honest communication is key to understanding your partner's feelings and working together to address any concerns or issues in your relationship.
How do you tell if a guy is not sexually attracted to you?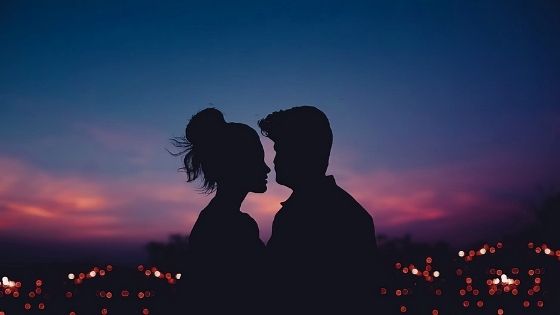 Disinterest in Physical Appearance: He doesn't seem to pay attention to your appearance or make positive comments about how you look.
Lack of Spontaneity: There's a noticeable absence of spontaneous affection or romantic gestures.
Minimal Effort in Bed: He puts in minimal effort or enthusiasm during sexual activities.
Shortened Duration of Intimacy: The time spent on physical intimacy has significantly decreased, with encounters becoming shorter and less frequent.
Avoidance of Intimate Conversations: He avoids discussing your sexual desires, preferences, or fantasies.
No Attempt to Set the Mood: There's no effort to create a romantic or intimate atmosphere before sexual encounters.
Emphasis on Friendship: He frequently refers to you as a friend rather than a romantic partner.
No Effort to Satisfy You: He doesn't make an effort to ensure your sexual satisfaction or prioritize your pleasure.
Expresses Discomfort: He may communicate feelings of discomfort or unease during sexual activity.
Change in Communication: He communicates less frequently and less intimately, both in and out of the bedroom.
Remember, while these signs may indicate a lack of sexual attraction, it's crucial to approach the situation with understanding and sensitivity. Factors such as stress, health issues, or emotional concerns could contribute to the behavior change. Open and honest communication is the best way to address any issues and better understand his perspective.
Why do I feel like he doesn't want me sexually?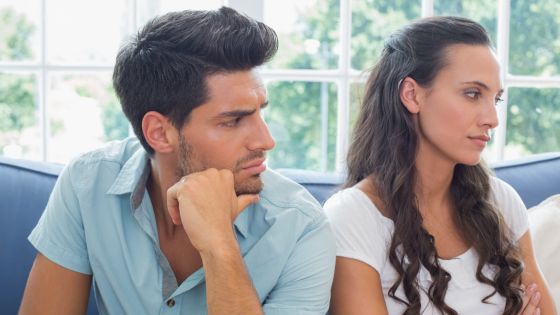 (Signs He Doesn't Want You Sexually) Feeling like your partner doesn't want you sexually can be emotionally challenging and may lead to feelings of insecurity or confusion. It's important to remember that these feelings are valid, and they can be caused by various factors, including:
Communication Issues: If there's a lack of clear communication about your desires, boundaries, and expectations in the relationship, it can lead to misunderstandings and doubts.
Changes in Behavior: If you've noticed a shift in your partner's behavior, such as reduced physical affection or intimacy, it's natural to question whether they are still interested in you sexually.
External Stressors: Stressors outside the relationship, such as work pressures, financial difficulties, or family issues, can impact a person's sexual desire and may make them less available for intimacy.
Self-Esteem and Insecurities: Personal insecurities or self-doubt can make it easy to misinterpret your partner's actions or inactions as a lack of desire.
Past Experiences: Previous negative experiences, such as rejection or a history of unsuccessful relationships, can influence how you perceive your current relationship.
Mental Health: Mental health issues, such as depression or anxiety, can affect one's libido and overall interest in sex.
Relationship Dynamics: Changes in the dynamics of your relationship, such as growing apart emotionally or becoming more like friends, can contribute to feelings of sexual disconnection.
It's essential to address these feelings and concerns openly with your partner. Communication is key in understanding each other's needs and desires and working together to find solutions. Additionally, consider seeking support from a therapist or counselor, either individually or as a couple, to explore these feelings further and develop strategies for improving your relationship's intimacy and communication. Remember that a healthy sexual relationship is built on trust, respect, and open dialogue.
What to do when he rejects you sexually?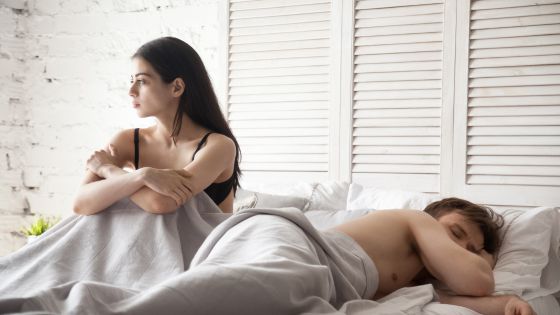 When your partner rejects you sexually, it can be a challenging and emotionally difficult experience. Here are some steps to consider taking:
Stay Calm and Avoid Assuming: It's essential not to jump to conclusions or assume that the rejection is a reflection of your attractiveness or desirability. There can be various reasons for a rejection, and it's not always about you.
Communicate Openly: Initiate an honest and non-confrontational conversation with your partner about the situation. Express your feelings, concerns, and desires, and ask them to share their perspective as well. Encourage open and empathetic communication to understand each other better.
Listen Actively: Be an active listener during the conversation. Try to understand your partner's reasons for the rejection without judgment. They may be dealing with personal issues, stress, or other factors that affect their desire.
Avoid Blame: Refrain from placing blame or making accusations. Instead, focus on finding solutions and addressing the issue together as a team.
Respect Boundaries: Respect your partner's boundaries and feelings. It's essential to create a safe space for them to share their thoughts and concerns without feeling pressured.
Explore Potential Causes: Together, explore possible reasons for the rejection. Consider factors such as stress, health issues, emotional concerns, or changes in the relationship dynamics that might be affecting their desire.
Consider Professional Help: If the issue persists or seems complex, consider seeking the assistance of a therapist or counselor, either individually or as a couple. Professional guidance can help you both navigate the issue more effectively.
Work on the Relationship: Focus on strengthening your emotional connection and overall relationship. Sometimes, improving emotional intimacy can lead to an improvement in sexual intimacy.
Take Care of Yourself: While addressing the issue, don't neglect your own well-being. Continue to prioritize self-care, maintain hobbies and interests, and seek support from friends or a support network.
Be Patient: Understand that resolving sexual issues may take time. Be patient with both yourself and your partner as you work through the challenges together.
Remember that sexual rejection does not necessarily indicate a lack of love or attraction in a relationship. Relationships go through ups and downs, and challenges can be opportunities for growth and deeper connections when approached with understanding and compassion.
Final Thoughts On "Signs He Doesn't Want You Sexually"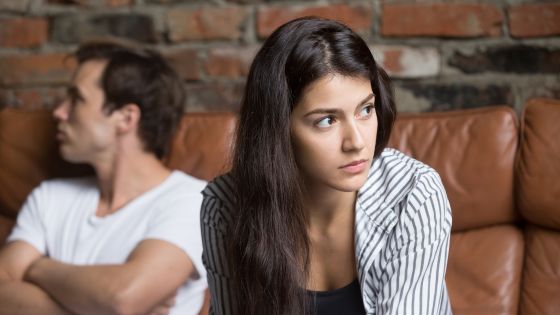 (Signs He Doesn't Want You Sexually) It's important to approach signs of sexual disinterest with understanding and open communication. While these signs can provide insights, they are not definitive proof of your partner's feelings. Remember that sexual desire can fluctuate for various reasons, and addressing concerns with empathy and respect is key to nurturing a healthy and fulfilling relationship.
If you ever feel uncertain, consider engaging in a heartfelt conversation to understand each other's needs better and work together to maintain the intimacy vital for a strong bond. Every relationship is unique, and by addressing challenges with care and patience, you can foster trust and emotional connection.
Disclaimer: 20 Clear Signs He Doesn't Want You Sexually!
The information provided in this post is for general guidance and informational purposes only. It should not be considered a substitute for professional advice or counseling. Every individual and relationship is unique, and specific circumstances may require personalized guidance.
If you have concerns or questions about your relationship or any other related matter, please consult with a qualified professional or therapist for tailored assistance.
Reference – marriage.com