1 Year Anniversary Ideas For Long Distance Relationships
In a world where physical touch is cherished, long-distance relationships stand as a testament to the power of love. They are a symphony of heartbeats that transcend miles and time zones, defying the boundaries of space. Each moment apart fuels an unquenchable longing, kindling the fire of anticipation.
The absence of a warm embrace is met with virtual hugs and whispered promises. From handwritten letters that bear the weight of unspoken emotions to late-night video calls that bridge the gap between souls, these relationships thrive on resilience and unwavering devotion. They are a reminder that love knows no distance, for it finds its way through every screen, every mile, and every beat of the heart.
Long-distance relationships can be challenging due to the physical distance that separates partners. Celebrating an anniversary in a long-distance relationship can be particularly difficult because you can't be together physically to share the special day. However, with a little creativity and effort, you can make your long-distance anniversary memorable and romantic.
How do you wish an anniversary in a long distance relationship?
When wishing an anniversary in a long-distance relationship, it's important to convey your love, appreciation, and the significance of the milestone despite the physical distance. Here's an example of how you can wish your partner on your anniversary:
"Happy anniversary, my love! Today marks another year of our incredible journey, even though we may be far apart. Distance cannot diminish the love and admiration I have for you. Every moment spent talking, laughing, and supporting each other has only deepened our connection. I am grateful for your unwavering love and commitment, even through the challenges of being apart. Distance may separate us physically, but our hearts are forever entwined. Thank you for being my rock and my constant source of joy. Here's to the love we share and the beautiful future that awaits us. I love you more than words can express. Happy anniversary, my darling."
Here are some ideas to help you make the most of your special day:
1 Year Anniversary Ideas For Long Distance Relationships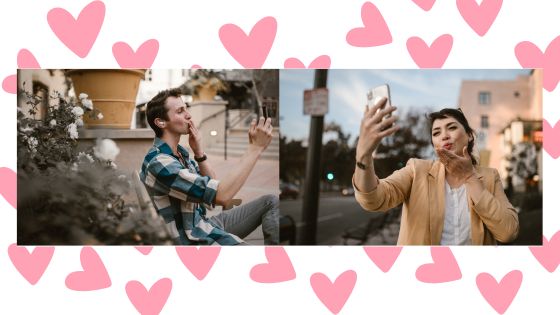 Plan Ahead
Start by discussing with your partner what you both want to do for your anniversary. Set a date and decide on the activities or surprises you want to incorporate into the celebration. Planning ahead ensures that both of you are on the same page and gives you time to make necessary arrangements.
Send A Heartfelt Gift
Consider sending a meaningful gift to your partner to mark the occasion. It could be something personalized or sentimental, such as a handwritten letter, a photo album of your memories together, or a thoughtful item that reminds them of a special moment you shared. The act of receiving a heartfelt gift can make your partner feel loved and cherished, even from a distance.
Virtual Date Night
Set up a virtual date night where you both dress up and have a romantic dinner together. Coordinate your meals and enjoy a candlelit dinner over a video call. You can even order food from the same restaurant and have it delivered to both of your locations to create a sense of togetherness.
Watch A Movie Together
Plan a movie night where you synchronize watching a movie or a TV show episode together. Use video chat or screen-sharing platforms to watch simultaneously and share your thoughts and reactions in real-time. This can recreate the feeling of being together and provide a shared experience.
Surprise Visits Or Trips
If feasible, surprise your partner with a visit or plan a trip to see each other around the anniversary date. The element of surprise can make the celebration even more special and memorable. Spending time together physically, even if it's for a short period, can strengthen your bond and create lasting memories.
Play an Online Game With Each Other
Playing an online game together can be a fun and interactive way to celebrate your long-distance anniversary. It provides an opportunity to engage in a shared activity, create lasting memories, and strengthen your bond. Here's how you can incorporate online gaming into your celebration.
Select an online game that both you and your partner enjoy or find intriguing.
Consider games that allow for communication and collaboration, as this can enhance your connection.
Prior to your anniversary, discuss the game you want to play and ensure that both of you have access to it.
While playing the game, set up a voice chat or use a platform that allows real-time communication.
Dive into the game and enjoy the experience together. Laugh, compete, cooperate, and immerse yourselves in the virtual world.
Whether you're exploring a fantasy realm, solving puzzles, or engaging in friendly competition, the key is to have fun and embrace the joy of playing together.
As you progress through the game, celebrate milestones and achievements during your anniversary celebration. It could be completing a challenging level, winning a match, or unlocking new features.
Acknowledge these moments and celebrate them as a team, creating a sense of accomplishment and shared success.
Create A Virtual Scrapbook
Collect photos, videos, and other mementos from your relationship and create a virtual scrapbook or a digital slideshow. Share it with your partner on your anniversary day as a way to reminisce and celebrate your journey together.
Write Love Letters
Love letters are a timeless and romantic way to express your feelings for your partner. In a long-distance relationship, they can be especially meaningful, as they provide a tangible and heartfelt connection. Here's how you can incorporate love letters into your long-distance anniversary celebration.
Take the time to write heartfelt love letters to each other, expressing your feelings, appreciation, and commitment. These letters can be a beautiful keepsake and a reminder of your love during the times you can't be together.
Surprise Surprises
Throughout the day, surprise your partner with little gestures. It could be sending them a bouquet, scheduling a surprise video call, or arranging for a special delivery. These unexpected surprises show your thoughtfulness and effort in making the anniversary special despite the distance.
How do you wish your boyfriend a one year anniversary in a long distance relationship? 
To wish your boyfriend a one-year anniversary in a long-distance relationship, you can use a heartfelt message that expresses your love and appreciation. Here's an example:
"Happy one-year anniversary, my love! Although we may be physically apart, our hearts have been intertwined in this beautiful journey for an entire year. Today, I celebrate not only the love we share but also the strength and commitment that have carried us through the distance. Every moment spent talking, laughing, and supporting each other has fortified our bond. I'm grateful for your unwavering presence in my life and the countless ways you make me feel cherished. Here's to the countless adventures we'll embrace in the years to come. I love you more than words can express. Happy anniversary, my dear."