Goodbye August Hello September Quotes
As August fades away and the warm embrace of summer begins to wane, September quietly emerges like a gentle breeze, signaling the arrival of autumn. It's a time of transition, where nature paints the world in hues of amber, crimson, and gold. As we bid farewell to August, we find ourselves saying goodbye to the lazy, carefree days and embracing the promise of new beginnings that September brings.
September is a month of nostalgia and reflection, a time to look back on the memories created during the preceding months. It's a chance to cherish the laughter-filled days spent with loved ones, the adventures undertaken, and the lessons learned. As we gather these cherished moments close to our hearts, we prepare to welcome the joys and challenges that September will undoubtedly bring.
As the days become shorter and the air crisper, we feel a sense of anticipation for the upcoming season. September is a month of transformation, not only for nature but also for ourselves. We set new goals, make plans for the future, and embark on a journey of growth and self-discovery.
The symbolic significance of September is apparent in its name itself, as it derives from the Latin word "septem," meaning seven. It was originally the seventh month of the year in ancient Roman times. Although it was later adjusted to the ninth position in the modern Gregorian calendar, the month's essence remains rooted in the concept of beginnings and renewal.
So, as we bid farewell to August and embrace September with open arms, let us cherish the memories of the past while looking forward to the opportunities that lie ahead. May September be a month of fresh starts, gratitude, and an ever-present sense of wonder as we continue our journey through the changing seasons of life.
Goodbye August Hello September Quotes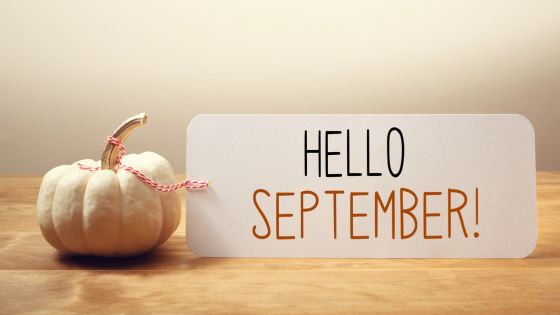 "August memories may fade, but the promise of September remains."
"August's sunsets pave the way for September's new dawn."
"As August bids adieu, September whispers its enchanting welcome."
"August winds bring September dreams on their wings."
"Goodbye August, hello September – a time for nature's symphony."
"In the tapestry of time, August threads meet September's colors."
"Farewell, August – September brings a canvas of change."
"With September's arrival, life writes a new chapter."
"As August's warmth softens, September's embrace beckons."
"August memories linger, but September promises wonder."
"Hello, September – a season for growth and renewal."
"Saying goodbye to August, we embrace September's grace."
"September whispers secrets only autumn can hear."
"August's sunsets set the stage for September's sunrise."
"Goodbye, August – September's dance awaits."
"As August's flowers bow, September's bloom with hope."
"Farewell, August – September's breeze carries dreams."
"In the tapestry of time, August's hues blend into September's melody."
"With September's arrival, change paints the world anew."
"As August sleeps, September awakens the soul."
"Hello, September – a month of beginnings and blessings."
"August's lessons pave the path for September's journey."
"Saying goodbye to August means embracing September's embrace."
"In the bridge between August and September, hope takes flight."
"Farewell, August – September whispers a tale of transformation."
"September's arrival heralds the magic of fall."
"With September's song, summer's melody finds harmony."
"As August's warmth bids adieu, September's cool breeze arrives."
"Goodbye, August – September brings a fresh breeze of hope."
"In September's symphony, we find the rhythm of life."
"August's sunsets linger, but September's sunrises inspire."
"As August fades, September's dreams grow stronger."
"Hello, September – a time for gratitude and grace."
"Goodbye, August – September's spirit dances in the air."
"In the September breeze, we find the whispers of change."
"With September's embrace, we welcome a season of transformation."
"Saying farewell to August, September's story unfolds."
"As August's days shorten, September's possibilities expand."
"Hello, September – a month of falling leaves and rising dreams."
"Goodbye, August – September's blessings come knocking."

"In the rhythm of September, we find harmony."
"With September's arrival, we embrace change like a warm hug."
"As August's warmth lingers, September's coolness invites us in."
"September's beauty shines as August's colors fade."
"Goodbye, August – September brings a new song to sing."
"In the September sky, we see hope written in stars."
"Farewell, August – September's magic is just beginning."
"With September's arrival, dreams take flight like migrating birds."
"As August's memories wane, September's possibilities wax."
"Hello, September – a month to bloom like autumn flowers."
"Goodbye, August – September's winds carry whispers of change."
"As August bids farewell, September extends its open arms."
"In the September rain, we find solace and growth."
"With September's dance, life takes on a new rhythm."
"August's sunsets hold secrets that September's sunrises will reveal."
"Hello, September – a time to harvest dreams and plant hope."
"As August's sun sets, September's moon rises with promise."
"September's symphony plays a melody of transformation."
"Farewell, August – September's colors will paint a new canvas."
"With September's arrival, we turn a page in the book of life."
"Goodbye, August – September's breeze carries whispers of change."
"In the September woods, we find nature's poetry."
"As August's warmth recedes, September's embrace comforts."
"Hello, September – a month of falling leaves and rising spirits."
"September's arrival sparks a fire of inspiration."
"Saying farewell to August, we greet September's adventure."
"As August's sunsets fade, September's dreams take flight."
"With September's dance, we find our rhythm."
"Goodbye, August – September's grace will lead the way."
"In the September rain, we find growth and renewal."
"As August's days wane, September's gifts bloom."
"Hello, September – a month to embrace change like the autumn breeze."
"September's symphony of change whispers to the heart."
"With September's arrival, we uncover new possibilities."
"Goodbye, August – September's winds carry the seeds of hope."
"As August's sun sets, September's moon rises with dreams."
"September's colors paint a vibrant canvas of life."
"In the September woods, nature speaks its truths."
"As August's warmth retreats, September's coolness beckons."
"Hello, September – a time to savor the last days of summer's warmth."

"September's arrival brings a season of transformation."
"Saying farewell to August, we embrace September's melody."
"With September's dance, we find harmony in change."
"Goodbye, August – September's breeze whispers tales of growth."
"In September's symphony, we hear the rhythm of life."
"As August's sun fades, September's stars illuminate the path ahead."
"September's beauty unfolds like a blooming flower."
"With September's arrival, we prepare for a journey of discovery."
"Hello, September – a month of falling leaves and rising hopes."
"Goodbye, August – September's winds carry the promise of change."
"In the September rain, we find cleansing and renewal."
"As August's days wane, September's dreams wax."
"September's dance is a celebration of life's transitions."
"With September's arrival, we welcome a season of change and growth."
"Goodbye, August – September's melody plays in our hearts."
"In the bridge between August and September, we find hope."
"As August's warmth lingers, September's coolness welcomes us."
"September's colors are nature's poetry in motion."
"With September's arrival, life writes a new chapter of possibility."
"Hello, September – a month of transformation and new beginnings."
"As August's sun sets, September's moon rises to illuminate the path of change."
"September's arrival whispers the secrets of autumn's embrace."
"Goodbye, August – September's symphony of change awaits its conductor."
"In the September breeze, we find the melody of transformation."
"With September's dance, the seasons waltz into a new chapter."
"Hello, September – a month to embrace change like leaves falling gracefully."
"September's beauty lies in the details of its evolving canvas."
"As August bids farewell, September's winds carry the scent of new beginnings."
"September's colors paint a masterpiece of transition on nature's canvas."
"Goodbye, August – September's breeze carries the whispers of dreams."
"In the September woods, we find solace and strength for the journey ahead."
"With September's arrival, we open the door to a season of possibilities."
"As August's warmth softens, September's coolness revives the soul."
"September's dance is a celebration of life's ever-changing rhythm."
"Farewell, August – September's symphony of growth harmonizes with the heart."

"In the tapestry of time, August's threads weave seamlessly into September's design."
"Hello, September – a month to write new chapters in the book of life."
"September's arrival heralds the magic of autumn's transformation."
"Saying goodbye to August, we welcome September's poetry in motion."
"With September's dance, we twirl in the arms of change."
"As August's sun sets, September's stars illuminate paths to dreams."
"September's beauty lies in the golden moments between summer's end and autumn's embrace."
"Goodbye, August – September's winds whisper of opportunities to come."
"In September's rain, we cleanse our spirits and embrace renewal."
"With September's arrival, life orchestrates a symphony of change."
"Hello, September – a month of falling leaves and rising aspirations."
"As August's sunsets fade, September's sunrises awaken new possibilities."
"September's colors mirror the hues of our dreams and aspirations."
"Farewell, August – September's winds carry hope on their wings."
"In the September woods, we discover nature's secrets in the whispers of the wind."
"September's dance invites us to move gracefully with the rhythm of change."
"With September's arrival, we embrace the season of transformation with open hearts."
"Goodbye, August – September's symphony crescendos into a beautiful change."
"As August fades, September's dreams bloom like autumn flowers."
"September's beauty lies in its ability to turn endings into beginnings."
"Hello, September – a month to harvest the seeds of summer and sow new aspirations."
"September's arrival is a canvas where dreams meet reality."
"Saying farewell to August, we embrace September's melody of change."
"With September's dance, we move gracefully into the arms of autumn."
"September's breeze carries the whispers of transformation to every corner."
"Goodbye, August – September's winds breathe life into forgotten dreams."
"In the tapestry of time, August's threads intertwine with September's destiny."
"September's symphony resonates with the harmony of transition."
"As August's warmth subsides, September's coolness brings renewal."
"September's colors paint a vibrant picture of nature's artistry."
"With September's arrival, we embark on a journey of self-discovery."
"Hello, September – a month to fall in love with change."
"September's dance guides us gracefully through life's transformations."
"As August's sun sets, September's moon illuminates the path to growth."
"September's beauty lies in the balance between endings and beginnings."