Morning Quotes to Get Your Day Started:
Our most recent selection of morning sayings will inspire you to begin the day with joy and appreciation.
Positive thoughts and self-talk have incredible power. The thoughts we have first thing in the morning frequently set the tone for the rest of the day.
It is crucial that we always have some of our favorite sayings and ideas close at hand, whether they be in our calendars, on paper, taped to our mirrors, or in our minds. This serves as a quick guide and benchmark for us.
We can consider upbeat thoughts that will uplift our spirits and help us face the day head-on if we can quickly recall a motivating concept. In light of that, here are some motivational good morning quotes to get you going:
Inspirational Morning Quotes to Get Your Day Started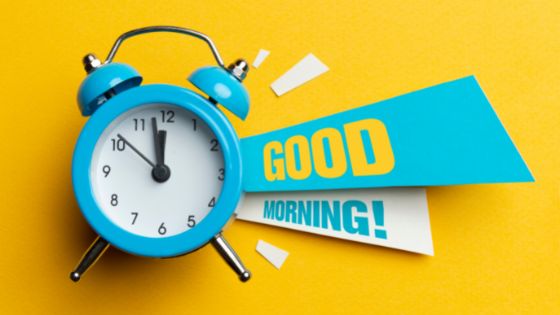 1 "Today's goals: Coffee and kindness. Maybe two coffees, and then kindness." – Nanea Hoffman
2 "I wake up every morning at nine and grab the morning paper. Then I look at the obituary page. If my name is not on it, I get up." – Benjamin Franklin
3 "If you're changing the world, you're working on important things. You're excited to get up in the morning." – Larry Page
4 "I like freedom. I wake up in the morning and say, 'I don't know, should I have a popsicle or a donut?' You know, who knows?" – Oscar Nunez
5 "Some people dream of success, while other people get up every morning and make it happen." – Wayne Huizenga
6 "Morning is an important time of day because how you spend your morning can often tell you what kind of day you are going to have." – Lemony Snicket
7 "I used to love night best but the older I get the more treasures and hope and joy I find in mornings." – Terri Guillemets
8 "It is in the early morning hour that the unseen is seen and that the far-off beauty and glory, vanquishing all their vagueness, move down upon us till they stand clear as crystal close over against the soul." – Sarah Smiley
9 "If you get up in the morning and think the future is going to be better, it is a bright day. Otherwise, it's not." – Elon Musk
10 "The morning is good because we remember that no matter what went wrong the previous days, we just got a perfect opportunity to rewrite history and do better." — Unknown
The Best Morning Quotes to Get You Motivated for the Day
11 "The brain is a wonderful organ; it starts working the moment you get up in the morning and does not stop until you get into the office." — Robert Frost
12 "Be the person that when your feet touch the floor in the morning the devil says, "Awe sh*t, they're up". – Dwayne Johnson
13 "You have brains in your head. You have feet in your shoes. You can steer yourself any direction you choose." — Dr. Seuss
14 "The real test is not whether you avoid this failure because you won't. It's whether you let it harden or shame you into inaction, or whether you learn from it; whether you choose to persevere." — Barack Obama
15 "Watch your thoughts; they become words. Watch your words; they become actions. Watch your actions; they become habits. Watch your habits; they become character. Watch your character; it becomes your destiny." – Lao Tzu
16 "Make each day your masterpiece." – John Wooden
17 "Don't worry about failures; worry about the chances you miss when you don't even try."- Jack Canfield
18 "Your first ritual that you do during the day is the highest leveraged ritual, by far, because it has the effect of setting your mind, and setting the context, for the rest of your day." – Eben Pagan
19 "It does not matter how slowly you go as long as you do not stop." – Confucius
20 "When I'm tempted to skip my morning routine or another form of self-care, I remind myself that I can better serve the people I love and the projects I care about when I start with me." – Courtney Carver
Morning Quotes to Inspire and Motivate You
21 "Starting my day with exercise gives me a big mood and energy boost throughout the day and makes me feel like I've accomplished something right off the bat." – Jake Knapp 
22 "The difference between ordinary and extraordinary is that little extra." – Jimmy Johnson
23 "Limitations live only in our minds. But if we use our imaginations, our possibilities become limitless." – Jamie Paolinetti
24 "Mornings are so precious because it's when I'm most productive. For me, thirty minutes at 5:30 am is equivalent to at least an hour at 3:00 pm." – Whitney Johnson
25 "For each new morning let there be the flow of love. Let there be the light of happiness in every direction."― Amit Ray
26 "You must wake up in the morning thinking of things you could change in and about your life on a daily basis."― Sunday Adelaja
27 "When you rise in the morning, form a resolution to make the day a happy one for a fellow creature."― Sydney Smith
28 "Morning is an important time of day because how you spend your morning can often tell you what kind of day you are going to have."– Lemony Snicket
29 "When I first open my eyes upon the morning meadows and look out upon the beautiful world, I thank God I am alive." – Ralph Waldo Emerson
30 "The morning wind spreads its fresh smell. We must get up and take that in, that wind that lets us live. Breathe before it's gone." – Rumi
Morning Quotes to Kick Off Your Day
31 "This day is all I have and these hours are now my eternity. I greet this sunrise with cries of joy as a prisoner who is reprieved from death."— Og Mandino
32 "You have power over your mind – not outside events. Realize this, and you will find strength." – Marcus Aurelius
33 "Given another shot at life, I would seize every minute of it … look at it and really see it … try it on … live it … exhaust it … and never give that minute back until there was nothing left of it."— Erma Bombeck
34 "You don't have to be great to start, but you have to start to be great." – Unknown
35 "Morning is when the wick is lit. A flame ignited, the day delighted with heat and light, we start the fight for something more than before." – Jeb Dickerson
36 "When you do something noble and beautiful and nobody noticed, do not be sad. For the sun every morning is a beautiful spectacle and yet most of the audience still sleeps."- John Lennon
37 "It is well to be up before daybreak, for such habits contribute to health, wealth, and wisdom."- Aristotle
38 "Some people dream of success, while other people get up every morning and make it happen." – Wayne Huizenga
39 "Just like the days, no two sunrises are ever the same." – Jonathan P. Lamas
40 "You only get one sunrise and one sunset a day, and you only get so many days on the planet. A good photographer does the math and doesn't waste either." – Galen Rowell
Morning Quotes to Motivate You
41 "With the new day comes new strength and new thoughts." – Eleanor Roosevelt
42 "Morning is the start of every day, and I will live each day like it's a new day, renewing our love." – Unknown
43 "It was morning; through the high window, I saw the pure, bright blue of the sky as it hovered cheerfully over the long roofs of the neighboring houses. It too seemed full of joy, as if it had special plans, and had put on its finest clothes for the occasion." – Hermann Hesse
44 "What is love? It is the morning and the evening star." – Sinclair Lewis
45 "I find that checking my phone [in the morning] tramples over my positive vibes because we all know that checking messages is like rattling a wasp nest." – Stephanie Lee
46 "Front-loading my day (getting a whole bunch done in the morning) is my productivity secret." — Celeste Headlee
47 "For many years, my morning routine was a result of how other people expected me to show up. I was overwhelmed and off-center because I was ignoring the messages my body was sending me." – Amber Rae
48 "There's always a sunrise and always a sunset and it's up to you to choose to be there for it,' said my mother. 'Put yourself in the way of beauty."— Cheryl Strayed
49 "The person who doesn't scatter the morning dew will not comb gray hairs." — Hunter S. Thompson
50 "It isn't as bad as you sometimes think it is. It all works out. Don't worry. I say that to myself every morning."— Gordon B. Kinkley
READ MORE INSPIRATIONAL QUOTES: