Habits of Highly Organized Women
Being extremely organized is the small secret of most successful people who are living their best lives today, according to them all! I'll reveal 10 habits of organized women in this post to help you find your best version.
I have never appreciated productivity, efficiency, and the ability to accomplish things when I want to.
But that would make me unhappy since I would mostly procrastinate or be ineffective. The outcomes would therefore be minimal.
I once received guidance from numerous successful women who are leading beautiful lives! I picked up some great habits! I've grown so much since incorporating those routines into my life.
Organize your life by reading How to Organize Your Life in One Week – 10 Tips if you want to.
What are some Habits of Highly Organized Women?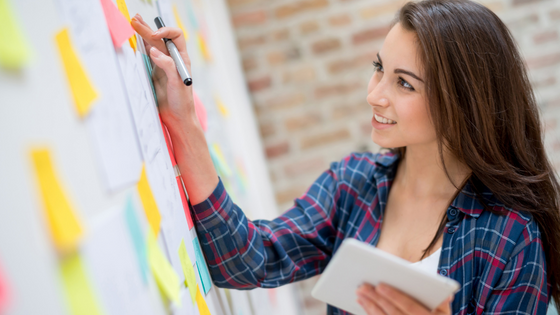 They note down everything.
They have routines and religiously follow them to be more organized daily.
They ask for help whenever needed.
They don't overburden themselves with others' expectations.
Their to-do lists stay current.
They constantly clean and declutter things.
They are optimistic and goal-oriented.
They have a place for everything except negativity.
They come prepared.
They don't procrastinate.
They don't stress over pity things.
So, Let's Start Learning the 10 Habits of Organized Women!
1 They note down everything
I always get brain fog, and remembering everything becomes difficult. What I learned from highly organized women is to note down things. Yes, just a simple pen and paper or a notepad on the phone can help you write down things that are important, and there are minimal chances of missing them from your to-do list. I have tried this traditional method of writing things down; trust me; it helps like wonders.
2 They plan their day
The most important aspect of being organized and getting things done is planning your day! It won't benefit you if you go about your day without a schedule of the critical tasks you need to complete and, more crucially, when.
You must plan your schedule effectively to get the most out of it daily. I enjoy making daily to-do lists that only include the most crucial tasks.
3 They simplify their life
Simplifying your life is one of the main components of becoming highly organized.
It's challenging to focus on anything when a lot is going on at once! Therefore, the secret to being simple and organized is to remove unnecessary things from your life and add the basics!
4 They Prioritize Their Tasks
I make to-do lists every day, and as I have stated, my major goal is to complete only the Top 2-5 most important Tasks for the Day.
I picked up on this from a lot of successful people! I used to prepare a to-do list with 10 items and immediately do the less important jobs before moving on to the more critical ones.
Since then, I have cut back on my workload but only complete the most crucial duties first. If I still have time after that, I will complete other small tasks.
5 They have productive routines
It's crucial to plan your day and include a productive routine! You can plan your entire day, but a productive routine is when you do the necessary chores. The secret is to establish a daily productive schedule that you can keep to!
I was able to develop a daily productive regular plan and productive morning routine after conducting extensive research and experimentation.
6 They constantly clean and declutter things
Successful women constantly clean and declutter things. The significance of decluttering as frequently as possible to maintain an orderly atmosphere is recognised by those who are truly organised.
When you can consistently toss things away or donate stuff each week, why wait for the weekend or a free day to declutter? It's critical that organising turn into a regular practise rather than a one-time event. Of course, when you have less stuff, getting and maintaining organisation is always much more uncomplicated.
7 They love to learn new things
It takes a lot of learning and pattern shifting to live your greatest life! You can only become proficient and effective in a field once you learn fresh and crucial things that can help you find success in everything you do.
Welcoming new learnings can help you stay updated and embrace the life in a new manner every day.
8 They focus on things
I used to be a multi-tasker until I realized that I don't have ten brains and twenty hands to succeed in everything I do. Multi-tasking is good only if you are focused. Yes, you can do a few things with a clear focus than not doing those 100 things on the to-do list.
Pick your most important tasks daily and limit them to just four or five. You'll be able to complete a fewer tasks quickly than keeping your brain occupied with hundreds of not so important ones.
9 They make organization lists
I constantly create a tonne of lists since they are so crucial. Asana is one of the most efficient organization tool that I use every day. Every list you see in Asana is of a different kind and is related to work, which is how I utilise it for my everyday job.
I also carry the traditional pen and paper with me wherever I go. I love the new technology, but still I feel better with an empty notebook and pen to see my to-do tasks getting ticked every day. This self organizing planner with time blocks helps me stay updated with my daily, weekly, monthly and yearly tasks and things to do efficiently.
10 They focus on time management
I was an avid procrastinator. And I never even realized how I kept wasting the twenty four hours of each day. I wasn't going on the right path until I started looking for Habits of Organized Women. I added time blocks to my to-do lists and assigned tasks to each of them. This way I started being more organized and felt extra productive every day.
Final Thoughts on "Habits of Organized Women"
We all have busy lives, but we all get twenty four hours to live that life every day. Utilizing those twenty-four hours effectively and efficiently is the way to be more organized and productive to find success in everything.
These Habits of Organized Women will help you learn more about your efficiency and improve your productivity without stressing over the unnecessary things in life.
READ MORE
How To Reset Your Life – Incredible Ways To Reset Your Life Now
Self-Love Quotes to Enrich Your Self Esteem