Strong Mom Quotes Every Mother Needs To Read (+50 Quotes)
Every mom is a strong mom. She goes through a lot of pain while giving birth to her child. She nurtures the tiny human with all her love and strength. Want to compliment a strong mom or want to celebrate your strength as a mom, here are the Strong Mom Quotes That Will Encourage and Inspire you to feel awesome about yourself and every mom around.
Celebrate motherhood with this collection of Strong Mom Quotes, Stay Strong Mom Quotes, and Strong Single Mom Quotes.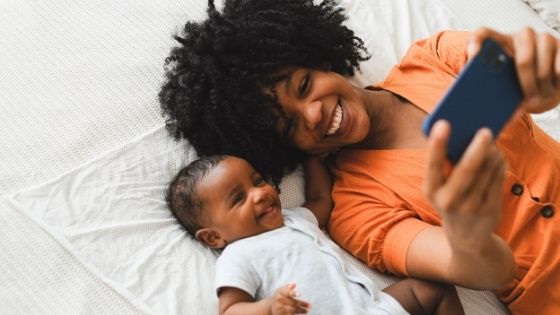 Strong Mom Quotes That Will Encourage and Inspire
1 "There is no way to be the perfect mother but a million ways to be a good one." – Jill Churchill
2 "Sometimes the strength of motherhood is greater than natural laws." – Barbara Kingsolver
3 "Postpartum is a quest back to yourself. Alone in your body again. You will never be the same. You are stronger than you were." – Amethyst Joy
4 "Being a mother is learning about strengths you didn't know you had, and dealing with fears you didn't know existed." – Linda Wooten
5 "A mother is she who can take the place of all others but whose place no one else can take." – Cardinal Mermillod
6 "We have a secret in our culture, and it's not that birth is painful. It's that women are strong." – Laura Stavoe Harm
7 "A mother's love endures through all." – Washington Irving
8 "The best place to cry is on a mother's arms." – Jodi Picoult
9 "Motherhood is the greatest thing and the hardest thing." – Ricki Lake
10 "Becoming a mom to me means that you have accepted that for the next 16 years of your life, you will have a sticky purse." – Nia Vardalos
11 "To be a mother you must be strong. Even if you don't feel it, you have to pretend." – Sade Adu
12 "It takes courage to be gentle and kind when everyone expects boldness and anger." – Maya Angelou
13 "The power of a mother's love is greater than any force on earth." – Unknown
14 "That strong mother doesn't tell her Son, stay weak so the wolves can get you. She says, Toughen up, this is reality we are living in." – Lauryn Hill
15 "The heart of a mother is a deep abyss at the bottom of which you will find forgiveness." – Honore de Balzac
Stay Strong Mom Quotes
16 "Not only am I a fighter, but I'm a survivor. I think being a mother really plays into that." – Willow Cross
17 "If evolution really works, how come mothers only have two hands." – Milton Berle
18 "Strong mothers raise strong daughters." – Jessica A. Lane
19 " Being a mother has been the most challenging and the most rewarding position I will ever hold." – Cathy Shaffer
20 "A mother's love does not set with the sun. It blankets you all through the night." – Amy Hoover
21 "Love as powerful as your mother's, leaves its own mark…To have been loved so deeply… Will give us some protection forever." – J.K. Rowling
22 "Being a mom has made me so tired. And so happy" – Tina Fey
23 "Mother love is the fuel that enables a normal human being to do the impossible." – Marion C. Garretty
24 "Having kids – the responsibility of rearing good, kind, ethical, responsible human beings – is the biggest job anyone can embark on." – Maria Shriver
25 "Your greatest contribution to the kingdom of God may not be something you do, but someone you raise." – Andy Stanley
26 "The angels, whispering to one another, can find, among their burning terms of love, none so devotional as that of Mother…" – Edgar Allan Poe
27 "My mom is a strong-willed lady. She taught me to believe in myself, no matter what anybody else said." – Tracy Edmonds
28 "A mother's love is as soft as a bunny but as strong as an ox." – Unknown
29 "Becoming a mother has been the most amazing experience – in an instant, you become strong. You have to be a little bit wiser; it's the most important job in the world." – Katie Holmes
30 "One is a mother in order to love without beginning or end." – Mariama Bâ
31 "Successful mothers are not the ones that have never struggled. They are the ones that never give up, despite the struggles." – Sharon Jaynes
32 "Strong mothers raise strong daughters." – Jessica Lane
33 "If i know what love is, it is because of you." – Hermann Hesse
34 "Motherhood is] the biggest gamble in the world. It is the glorious life force. It's huge and scary — it's an act of infinite optimism." – Gilda Radner
35 "Motherhood is a choice you make every day, to put someone else's happiness and well-being ahead of your own. To teach the hard lessons, to do the right thing, even when you're not sure what the right thing is…And to forgive yourself over and over again for doing everything wrong." – Donna Ball
36 "I believe the choice to become a mother is the choice to become one of the greatest spiritual teachers there is." – Oprah
37 "A mother continues to labor long after the baby is born." – Lisa Jo Baker
38 "To all mothers in every circumstance, including those who struggle, I say, 'Be peaceful. Believe in God and yourself. You are doing better than you think you are." – Jeffrey R. Holland
39 "Any mother could do the jobs of several air traffic controllers with ease." – Lisa Alther
40 "A strong mother is someone who doesn't give up because she believes God will always be there to help her." – Unknown
41 "Women are weak, but mothers are strong." – Julie Otsuka
42 "To describe my mother would be to write about a hurricane in its perfect power. Or the climbing, falling colors of a rainbow." – Maya Angelou
43 "The fastest way to break the cycle of perfectionism and become a fearless mother is to give up the idea of doing it perfectly – indeed to embrace uncertainty and imperfection." – Arianna Huffington
44 "He gives power to the weak and strength to the powerless." – Isaiah 40:29
45 "I'm thankful for my struggles because, without them, I wouldn't know my strengths." – Proudhappymama
Strong Single Mom Quotes
46 "I have a great career, and I have my daughter. So what I don't have is not as important to me as what I do have." – Padma Lakshmi
47 "I'm not really single. I mean, I am, but I have a son. Being a single mother is different from being a single woman." – Kate Hudson
48 "It's the only way of life I've known. I was raised by a single mom." – Padma Lakshmi
49 "The women whom I love and admire for their strength and grace did not get that way because stuff worked out. They got that way because stuff went wrong, and they handled it. They handled it in a thousand different ways on a thousand different days, but they handled it. Those women are my superheroes."- Elizabeth Gilbert
50 "As a single mom, I'm juggling a lot and working long hours. Yes, it costs them a little, but what my children get in return is a mother who is energized and content." – Edie Falco
Read More Amazing Quotes To Motivate You Everyday
Dog Love Quotes {Best Dog Quotes}
True Love Quotes: Heart Touching Love Quotes
Independent Women Quotes To Empower You Everyday
40 Inspirational Quotes About Debt Payoff
Inspiring Quotes on Money (50 Wise Money Quotes)
Cat Love Quotes (Most Popular Quotes For Your Cat)
Weight Loss Motivational Quotes To Keep You Going