Independent Women Quotes:
What is a strong woman quote? Every quote that boosts the confidence of women and makes them feel stronger is a strong woman quote for me. Every woman is born with strength but some of them cannot know their own valor. And then comes the need for Woman Empowerment.
If every woman around us is strong and sane. They are independent and a lot more dependable. Here are some of the top Independent Women Quotes that will inspire you to know your glory, valor, and strength right away.
Independent Women Quotes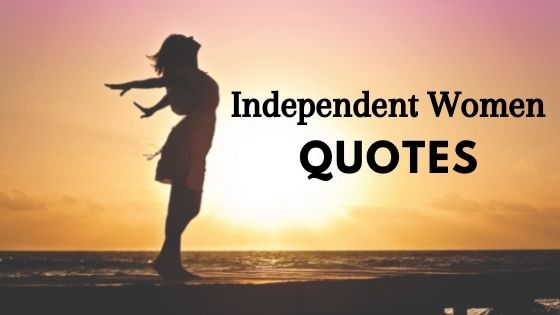 1 "One of the hardest things in life to learn are which bridges to cross and which bridges to burn." – Oprah Winfrey
2 "I was raised to be an independent woman, not the victim of anything." – Kamala Harris
3 "My mother told me to be a lady. And for her, that meant be your own person, be independent." – Ruth Bader Ginsburg
4 "We need to understand that there is no formula for how women should lead their lives. That is why we must respect the choices that each woman makes for herself and her family. Every woman deserves the chance to realize her God-given potential." – Hillary Clinton
5 "I don't want to be anyone's arm candy or trophy," Simone said. "Women can be more than that." – Kailin Gow
6 "I can't think of any better representation of beauty than someone who is unafraid to be herself." – Emma Stone
7 "There are two powers in the world; one is the sword and the other is the pen. There is a third power stronger than both, that of women." – Malala Yousafzai
8 "I want to do it because I want to do it. Women must try to do things as men have tried. When they fail, their failure must be but a challenge to others." – Amelia Earhart
9 "If you want something said, ask a man; if you want something done, ask a woman." – Margaret Thatcher
10 "I'm not going to continue knocking on that old door that doesn't open for me. I'm going to create my own door and walk through that." – Ava Duvernay
What Is A Perfect Woman Quote?
11 "A woman is a full circle. Within her is the power to create, nurture and transform." – Diane Mariechild
12 "I like being a strong, independent woman, and to be honest, I was never afraid to be on my own." – Dido Armstrong
13 "If you don't see a clear path for what you want, sometimes you have to make it yourself." – Mindy Kaling
14 "Life is tough, my darling. But so are you." – Stephanie Bennet Henry
15 "We need to stop telling the story about the woman who stayed home, passive and dependent, waiting for her man. She wasn't sitting around waiting. She was busy. She still is." – Rebecca Solnit
16 "Don't be afraid to speak up for yourself. Keep fighting for your dreams!" – Gabby Douglas
17 "I just want women to always feel in control. Because we're capable, we're so capable." – Nicki Minaj
18 "I am no bird, and no net ensnares me: I am a free human being with an independent will." – Charlotte Bronte
19 "I wanted to be an independent woman, a woman who could pay for her bills, a woman who could run her own life – and I became that woman." – Diane Von Furstenberg
Independent Woman Quotes
20 "Be the kind of woman that makes other women want to be you." – Topaz Read
21 "You have to believe in yourself when no one else does." – Serena Williams
22 "Be sure of yourself, don't let anyone bully you, be a strong and independent woman or boy." – Nicole Polizzi
23 "Girls should never be afraid to be smart." – Emma Watson
24 "The woman who follows the crowd will usually go no further than the crowd. The woman who walks alone is likely to find herself in places no one has ever been before." – Albert Einstein
25 "Not many women got to live out the daydream of women—to have a room, even a section of a room, that only gets messed up when she messes it up herself." – Maxine Hong Kingston
26 "Power is not given to you. You have to take it." – Beyoncé Knowles
27 "Anyone can hide. Facing up to things, working through them, that's what makes you strong." – Sarah Dessen
28 "A woman is like a teabag you can't tell how strong she is until you put her in hot water." – Eleanor Roosevelt
29 "The question isn't who's going to let me; it's who's going to stop me." – Ayn Rand
30 "God wants us to prosper financially, to have plenty of money, to fulfill the destiny He has laid out for us." – Joel Osteen
Empowering Independent Women Quotes
31 "There is no gate, no lock, no bolt that you can set upon the freedom of my mind." – Virginia Woolf
32 "It's important to be driven and have goals. You want an independent woman who knows what she wants and isn't afraid to go after it. It's attractive to me when a woman is doing what she loves. It makes me want to know more." – Apolo Ohno
33 "I believe in being strong when everything seems to be going wrong. I believe that happy girls are the prettiest girls. I believe that tomorrow is another day, and I believe in miracles." – Audrey Hepburn
34 "Be a first-rate version of yourself, not a second-rate version of someone else." – Judy Garland
35 "The power you have is to be the best version of yourself you can be, so you can create a better world." – Ashley Rickards
36 "Doubt is a killer. You just have to know who you are and what you stand for." – Jennifer Lopez
37 "Women have always been the strong ones of the world." – Coco Chanel
38 "Yes, I'm a feminist, because I see all women as smart, gifted, and tough." – Zaha Hadid
39 "Pain shapes a woman into a warrior." – R. H. Sin
40 "Only I can change my life. No one can do it for me." – Carol Burnett
41 "I have an independent streak. You know, it's kind of hard to tell an independent woman what to do." – Betty Ford
42 "Champions keep playing until they get it right." – Billie Jean King
43 "The woman who doesn't require validation from anyone is the most feared individual on the planet." – Mohadesa Najumi
44 "I have chosen to no longer be apologetic for my femaleness and my femininity. And I want to be respected in all of my femaleness because I deserve to be." – Chimamanda Ngozi Adichie
45 "The thing women have got to learn is that nobody gives you power. You just take it." – Roseanne Barr
Empowering Quotes For Women
46 "The best protection any woman can have, is courage." – Elizabeth Cady Stanton
47 "Don't wait around for other people to be happy for you. Any happiness you get you've got to make yourself." – Alice Walker
48 "Women are the real architects of society." – Cher
49 "She's a strong cup of black coffee in a world that is drunk on the cheap wine of shallow love." – Jm Storm
50 "Strong women don't play victim, don't make themselves look pitiful, and don't point fingers. They stand and they deal." – Mandy Hale
51 "A strong woman understands that the gifts such as logic, decisiveness, and strength are just as feminine as intuition and emotional connection. She values and uses all of her gifts." – Nancy Rathburn
52 "Strong women don't have 'attitudes', we have standards." – Marilyn Monroe
Financially Independent Woman Quotes
53 "Financial Independence is paramount". – Priyanka Chopra Jonas
54 "A woman's best protection is the little money of her own" – Clare Booth Luce
55 "Women belong in all places where decisions are being made" – Ruth Badger Ginsburg
56 "Financial independence gives you freedom" – Deepika Padukone
57 "When you understand that your self-worth is not determined by your net-worth, then you'll have financial freedom." – Suze Orman
58 "Money is a terrible master but an excellent servant." – PT Barnum
59 "Wealth is the ability to fully experience life." – Henry David Thoreau
60 "More important than the how we achieve financial freedom, is the why. Find your reasons why you want to be free and wealthy." – Robert Kiyosaki
Women Empowerment Quotes
61 "A good financial plan is a road map that shows us exactly how the choices we make today will affect our future." – Alexa Von Tobel
62 "You must gain control over your money or the lack of it will forever control you." – Dave Ramsey
63 "Real wealth is not about money. Real wealth is: not having to go to meetings, not having to spend time with jerks, not being locked into status games, not feeling like you have to say 'yes,' not worrying about others claiming your time and energy. Real wealth is about freedom." – James Clear
64 "A big part of financial freedom is having your heart and mind free from worry about the what-ifs of life." — Suze Orman
65 "When money flows into the hands of women, who have the authority to use it, everything changes — for women, their families, and their communities," — Melinda Gates
66 "A woman that makes a logical and rational financial decision is a woman who raises a son that expects women to enter the workforce; is a woman who raises a daughter who recognizes her place in the future," — Reema Bint Bandar Al Saud
Final Thoughts on "Independent Women Quotes To Empower You Everyday"
I am sure these Independent woman quotes are going to boost your confidence and morale of being an independent woman who doesn't need anyone's approval to be strong and capable of doing everything that you want. These strong woman quotes are the sure way to feel good every day.
Read More Inspiring Quotes Here
Love Quotes For Him To Make Him Feel Special
Best Cheer Up Quotes To Turn Your Day Around
40 Inspirational Quotes About Debt Payoff
Inspiring Quotes on Money (50 Wise Money Quotes)
Weight Loss Motivational Quotes To Keep You Going
ORGANIZATION QUOTES: 52 Inspirational Quotes About Being Organized