Weight Loss Motivational Quotes To Keep You Going:
The only gain people hate is weight gain. Everyone is trying hard to lose weight and many of us just give up in between due to a lack of motivation. Many of us have already forgotten our weight loss resolution of the year. Don't lose hope and keep going with these 50+ Weight Loss Motivational Quotes.
Keeping motivated for weight loss is a snap with these inspirational quotes from famous personalities. The time for you to get in shape has come. You need to do something in order to feel and look better.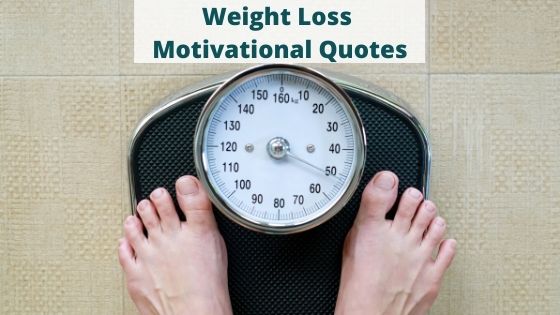 Weight Loss Motivational Quotes To Motivate You Everyday
1 "The first wealth is health." – Ralph Waldo Emerson
2 "It does not matter how slowly you go, as long as you don't stop." – Confucius
3 "The groundwork of all happiness is health." – Leigh Hunt
4 "The mind is everything. What you think you become." – Buddha
5 "Decide. Commit. Succeed." – Justin Seedman
6 "To climb steep hills requires slow pace at first." – William Shakespeare
7 "Exercise should be regarded as a tribute to the heart." – Gene Tunney
8 "Happiness is the highest form of health." – Dalai Lama
9 "Make time for it. Just get it done. Nobody ever got strong or got in shape by thinking about it. They did it." – Jim Wendler
10 "Successful weight loss takes programming not willpower." – Dr. Phil McGraw
What can I say to encourage weight loss?
11 "Leave all the afternoon for exercise and recreation, which are as necessary as reading. I will rather say more necessary because health is worth more than learning." – Thomas Jefferson
12 "Strength does not come from what you can do. It comes from overcoming the things you once thought you couldn't." – Nikki Rogers
13 "If you take care of your body, it'll take care of you." – Usher
14 "Motivation is what gets you started. Habit is what keeps you going." – Jim Rohn
15 "Looking after my health today gives me a better hope for tomorrow." – Anne Wilson Schaef
16 "Goals should never be easy, they should force you to work, even if they are uncomfortable at the time." – Michael Phelps
17 "If you can organize your kitchen, you can organize your life." – Louis Parrish
18 "I always believed if you take care of your body it will take care of you." – Ted Lindsay
19 "If you want to accomplish anything in life, you can't just sit back and hope it will happen. You've got to make it happen." – Chuck Norris
20 "Whatever the mind can conceive and believe, it can achieve." – Napoleon Hill
Motivational Quotes For Weight Loss and Exercise
21 "A diet is when you watch what you eat and wish you could eat what you watch." – Hermione Gingold
22 "If you're healthy all around, you'll feel better, and if you feel better, you'll have a more positive outlook. It's all connected." – Bridget Moynahan
23 "Everything you do in life, I don't care, good or bad – don't blame God, don't blame the devil, don't blame me, blame you. You control everything! The thoughts you think, the words you utter, the foods you eat, the exercise you do. Everything is controlled by you." – Jack La Lanne
24 "Never eat more than you can lift." – Miss Piggy
25 "The struggle you are in today is developing the strength you need for tomorrow." – Robert Tew
26 "The reason most people never reach their goals is that they don't define them, or ever seriously consider them as believable or achievable. Winners can tell you where they are going, what they plan to do along the way, and who will be sharing the adventure with them." – Denis Watiley
27 "It would be far easier to lose weight permanently if replacement parts weren't so handy in the refrigerator." – Hugh Allen
28 "Obstacles don't have to stop you. If you run into a wall, don't turn around and give up. Figure out how to climb it, go through it, or work around it." – Michael Jordan
29 "When you stop chasing the wrong things you give the right things a chance to catch you." – Lolly Daskal
30 "Getting my lifelong weight struggle under control has come from a process of treating myself as well as I treat others in every way." – Oprah Winfrey
Short Motivational Quotes For Weight Loss
31 "An active mind cannot exist in an inactive body." – General George Patton
32 "Through discipline comes freedom." – Aristotle
33 "We become what we think about most of the time, and that's the strangest secret." – Earl Nightingale
34 "If you have discipline, drive, and determination… nothing is impossible." – Dana Linn Bailey
35 "All progress takes place outside the comfort zone." – Michael John Bobak
36 "You can't cross the sea merely by standing and staring at the water. " – Rabindranath Tagore
37 "If I don't eat junk, I don't gain weight." – Paula Christensen
38 "Shoot for the moon. Even if you miss, you'll land among the stars." – Norman Vincent Peale
39 "If you don't do what's best for your body, you're the one who comes up on the short end." – Julius Erving
40 "There's a huge emotional component to weight loss." – Carnie Wilson
Motivational Mantras For Weight Loss
41 "While weight loss is important, what's more important is the quality of food you put in your body – food is information that quickly changes your metabolism and genes." – Mark Hyman
42 "It's going to be a journey. It's not a sprint to get in shape." – Kerri Walsh Jennings
43 "Lack of direction, not lack of time, is the problem. We all have twenty-four hour days." – Zig Ziglar
44 "To ensure good health: eat lightly, breathe deeply, live moderately, cultivate cheerfulness, and maintain an interest in life." – William Londen
45 "Every weight loss program, no matter how positively it's packaged, whispers to you that you're not right. You're not good enough. You're unacceptable and you need to be fixed." – Kim Brittingham
46 "To lose weight permanently requires faith – faith there is a bigger life waiting for you beyond food and weight." – Catherine L. Taylor
47 "I always tell people you don't have to work out an hour every day, but I do make sure I sweat – I think that's the biggest key to weight loss." – Molly Sims
48 "Just believe in yourself. Even if you don't, pretend that you do and, at some point, you will." – Venus Williams
49 "The hardest step to fitness is the first. Take it now!" – Heather Montgomery
50 "Success is what comes after you stop making excuses." – Luis Galarza
51 "Weight loss can change your whole character. That always amazed me: Shedding pounds does change your personality. It changes your philosophy of life because you recognize that you are capable of using your mind to change your body." – Jean Nidetch
52 "A calm and undisturbed mind and heart are the life and health of the body…" – Proverb
53 "Just when the caterpillar thought the world was ending, he turned into a butterfly." – Proverb
You May Like To Read
Must-Follow Skincare Routine For Glass Skin
Take This 21 Days Glow Up Challenge And See The Change – Glowing Skin Tips
Self Love Quotes to Enrich Your Self Esteem
Hello April Quotes And Sayings To Bring Joy