How To Live On One Income And Never Be Poor: 
What if you have only one income to live off and you don't know how you'll manage. Is it possible to live adequately on one income? Yes!  While one-income households can present challenges, they can also offer many benefits.
You shouldn't feel helpless at this moment, even though you may feel nervous. Situations happen when we come to this stage of life when we have to think of living on one income, as we have no choice. But when you decide to live frugally much before such difficult situations appear in life, you are never going to lose your financial game.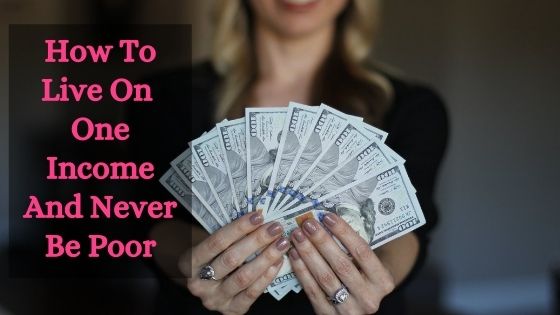 Disclaimer: This post contains Affiliate Links. As an Amazon Associate, I earn from qualifying purchases. This comes at no extra cost to you.
Can you live off one income?
Yes, you definitely can live off one income if you plan your money like a pro. You can do so many amazing things with the remainder of your paycheck when you live off of one income. 
People can live on one income if they plan their finances well. If you only earn one income, you can do a lot of awesome things with your leftover paycheck. If you manage one income to meet your needs and save the other, you are more likely to achieve several financial goals in your life.
It may be a dream vacation or your dream home, if you save an entire income for a purpose, you will achieve your dreams and desires faster than ever.
How To Live On One Income And Never Be Poor?
How do people live on one income and not be poor? Are you thinking about making the switch from multiple paychecks to one income? There are several effective strategies for living on one income. Here are some tips that may help you achieve your goals. 
Have An Emergency Fund In Place
When you live on one income, having an emergency fund can reduce all your stress of unwanted and unpredicted expenses. By the time you decide to live on one income, you should have enough in an emergency fund to cover 9 to 12 months of living expenses. 
When you and your partner are both working, you might be able to set up a direct deposit so some of your pay goes into a savings account, and most go into a checking account. When you save as much as possible, you will reach your savings goal earlier than expected, and this is a great way to begin tracking your spending if you would like to start.
In addition, you may need to cut some costs from your living expenses in order to prepare for the transition. You can calculate the amount of money you should save each month for an emergency fund by using the savings calculator offered by nerdwallet.
Set A Budget
Budgeting ensures you have enough money for the things you value and need by allowing you to spend your money according to your plan. Budgeting and spending plans not only help you avoid debt but also assist you in getting rid of debt if you are already in debt.
Determine your monthly income and expenses, and make a list of your values; keeping all these things in mind create the most suitable budget for you and your family. Here is a list of some of the most effective family budgeting methods for your reference.
Cut Costs – Spend Less
Once you have set a budget, you will have to stick to it. To contribute more and more to your savings, you will have to implement cost-cutting in day-to-day life.
Canceling unused membership of gyms and clubs would be one of the most important things to save costs on. Spending less amount on clothing and accessories can be extra beneficial to save money and it will help you achieve your financial goals faster.
Get Rid Of Debts
Living on one income may make you believe you will never be able to pay off your debt. Living on one income AND paying off debt at the same time is definitely possible!
Whatever money you have saved with the cost-cutting method, use it towards paying off debts. This way you can pay debts earlier and faster than the given timeline.
Related Posts On Money – Earn, Save, and Spend Wisely
Money Habits of Wealthy Women: 9 Impressive Ones You Should Adopt
Living Below Your Means – Practical Tips To Save Money
5 Best Frugal Living Tips With A Big Impact
Habits Of Women Who Are Never Broke
11 Things To Stop Buying To Save Money Every Month