Benefits Of Olive Oil For Skin And Hair:
In recent times, people have experienced the benefits of Olive oil for skin and hair. Everyone is praising this golden liquid called Olive Oil. And this most favorite kitchen ingredient has entered our beauty treatments too. This oil works wonders on hair and skin health.
Olive oil is naturally rich in anti-aging antioxidants. This oil can be used in your health and beauty regimen regularly. Olive oil has the capability to add beauty to your body from top to toe. From hair, skin, and nails; olive oil is useful for several beauty treatments.
Benefits Of Olive Oil For Skin And Hair
About Olive Oil
Spain is the largest producer of Olive oil in the world. This golden nectar derived from the tiny oil fruits has become popular in the world. It is generously used in cooking, beauty treatments, and health products worldwide.
This oil is extracted from the Olive fruits and then it reaches the consumer markets after getting processed.
Disclaimer: This post contains Affiliate Links. As an Amazon Associate, I earn from qualifying purchases. This comes at no extra cost to you.
Types Of Olive Oil
Before heading to the supermarket to purchase olive oil for beauty treatments, you need to understand the types of olive oil.
Virgin Olive Oil – This is the most popular variety of Olive oil that is commonly used in cooking.
Extra Virgin Olive Oil – This variety is made with the cold pressing method. This is one of the most expensive varieties of olive oil and everyone can't really afford this liquid gold.
Pure Olive Oil – It is not really the pure form of olive oil, this is a blend of virgin olive oil and refined oils that extends its shelf life.
Pomace Oil – Pomace oil is the oil extracted from the leftover pulp of olives. This pulp is called pomace. After the first stage of oil extraction, pomace still contains 5-8% oil in it. This lastly extracted oil is called pomace oil which is good to be used for cooking.
Incredible Benefits Of Olive Oil For Skin And Hair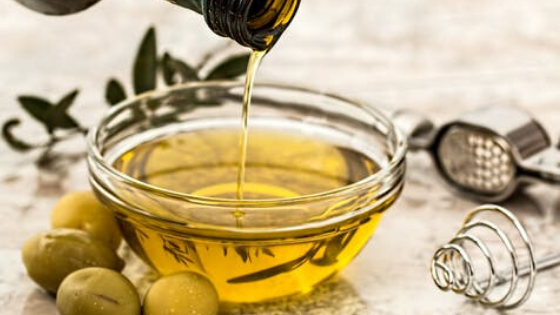 Olive oil has become one of the most essential ingredients in our personal care regimen, just like our very traditional Coconut Oil.
Benefits of Olive Oil For Skin
Excellent Skin Moisturizer – Apply and massage a little olive oil on the face in an upward direction. apply it on the neck too. Keep it for about 30 minutes and wash it off with tap water. Pat dry your face with a soft napkin. Do it twice a week. This way, olive oil will moisturize your dry skin from within.
Keep Your Legs Happy – Apply and massage some olive on your legs and feet after every shower. This will keep your legs and feet soft and supple. You do not need to spend a lot on the expensive moisturizers and body lotions available in the markets. Flaunt your naturally beautiful legs without spending a fortune.
Key Ingredient Of Face Packs – Add 1 teaspoon olive oil in any of your homemade face packs and get extra benefits of the face pack. Olive oil contains vitamin E. That adds up the glow to your skin.
Reduces Signs Of Aging – Regular use of olive oil in your face packs and massaging your face with olive oil will show the age-reversing effects on your skin. Look younger and feel beautiful by adding olive oil to your skincare regimen.
Heals Cracked Heels – Cracked heels are ugly and painful too. Add a few drops of lemon juice to 2 teaspoons of olive oil. Apply this mixture on cracked heels and see them getting beautiful again.
Benefits of Olive Oil For Hair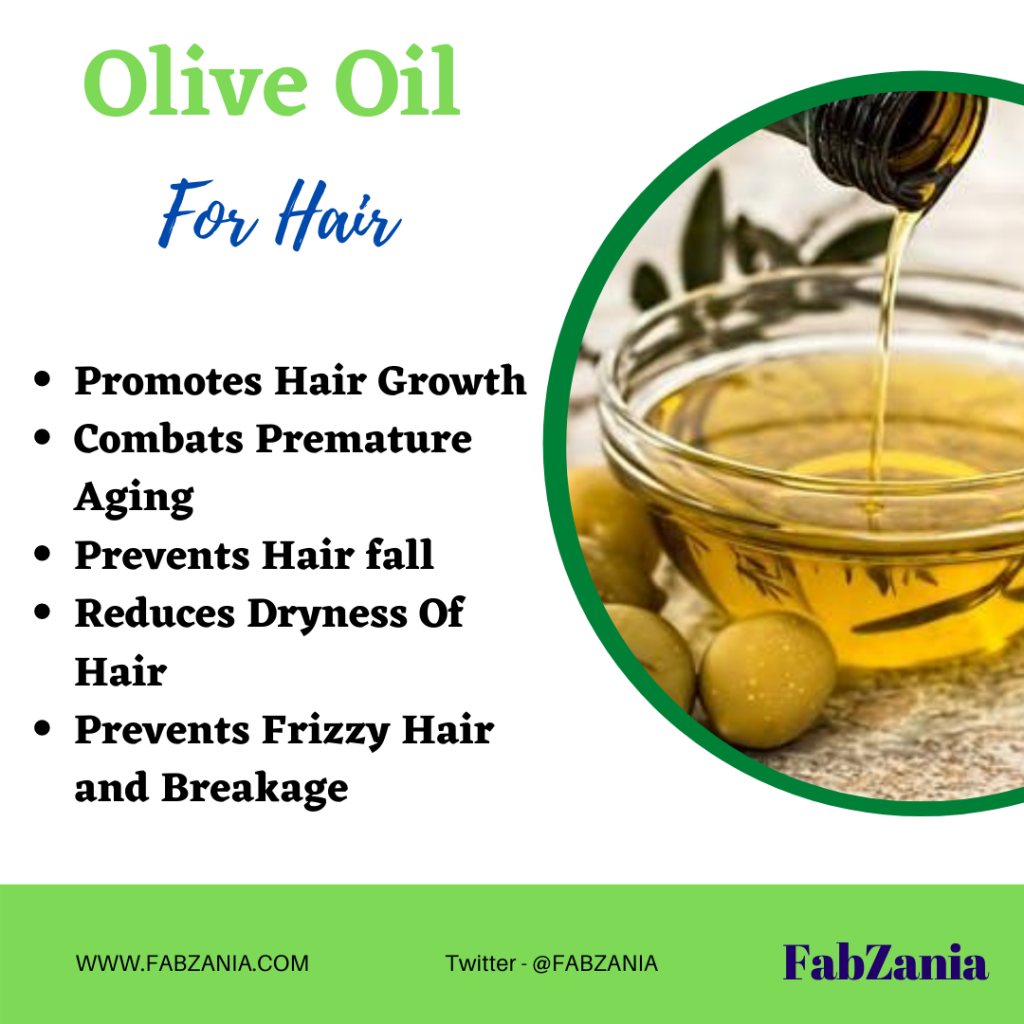 Best Remedy For Dry And Frizzy Hair – Massage your scalp with olive oil. You can mix 1 teaspoon olive oil with an equal amount of coconut oil and massage the scalp. Keep it for 2 hours and wash your hair with a mild shampoo. This will make your hair soft and moisturized.
Promotes Hair Growth – Applying virgin olive oil regularly to your hair will promote hair growth. You may also add 1 teaspoon olive oil to your shampoo and help your hair stay strong and shiny.
Combats premature Aging – Olive oil has anti-aging elements not just for skin but for hair too. Apply a mixture of olive oil, curry leaves oil, and almond oil, reverse the effects of aging quickly and get natural black hair with the help of this miracle oil.
Prevents Hair Fall – Olive oil is known to be the liquid gold for its numerous benefits on hair and skin. Apply extra virgin olive oil to your scalp and give it a deep massage. It will improve the blood circulation of the scalp and reduce hair fall dramatically.
Related Posts
7 Must-Have Oils In Your Beauty Regime – Best Oil For Skin
21 Days Glow Up Challenge – Glowing Skin Tips
Amazing Benefits Of Triphala For Hair, Skin, and Health
11 Things To Do To Be More Attractive