Updated on June 4th 2021
Incredible Benefits Of Triphala For Hair, Skin And Health:
Have you ever heard about this magical Ayurvedic medicine Triphala? You may not have heard about it that often. It is an ancient Ayurvedic medicine that has numerous health benefits for skin, hair, and overall health.
The world has developed and changed a lot, the beliefs of Ayurveda still remain the same. Ayurveda is accepted globally for its unchanging conscience.
Let's have a look at one more Ayurvedic medicine called Triphala (literally means a combination of three fruits) and the amazing health benefits of Triphala if used in the right manner.
Incredible Benefits Of Triphala For Hair, Skin, And Health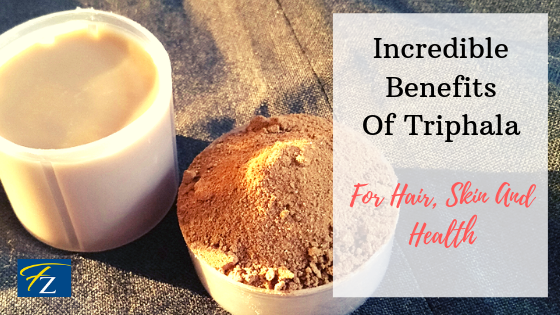 What Is Triphala
Triphala is basically a mixture of three medicinal plants of Indian native, Amla, Behada, and Harada.
Amla
Amla or globally known as Indian Gooseberry (Embilica officinalis) is commonly used in the preparations of many Ayurvedic medicines.
Behada
It is also known as Bibhitaki and the scientific name is Terminalia bellirica
Harda
Also known as Haritaki (Terminalia chebula) or Harad.
Triphala can be used in two forms one is Triphala powder and another one is Triphala juice. Both the ways it is going to be beneficial for your health when you use it rightly.
Health Benefits Of Triphala 
Improves Digestion – It is a safe laxative used for ages. Take a spoon of Triphala powder mixed with one glass of warm water before going to the bed. You can also prefer having Triphala Juice instead of powder.
You may take it twice a day for better bowel movements and reduce bloating and flatulence.
Natural Detoxifier – Having Triphala powder or juice twice a day will help you flush out all the toxins in your body. And it helps to get a brilliant glow on your skin too.
Better Eyesight – You can consume Triphala twice a day to improve your eyesight. Another way is to use it externally. Mix a spoonful of Triphala powder with a glass of water. Keep it overnight. Strain it the next morning and wash your eyes with this strained water. It will help you have healthy eyesight.
Immunity Booster – Triphala contains the best immunity booster like Amla (Indian Gooseberry) which contains a high amount of vitamin C and helps build immunity and creates a shield against many illnesses.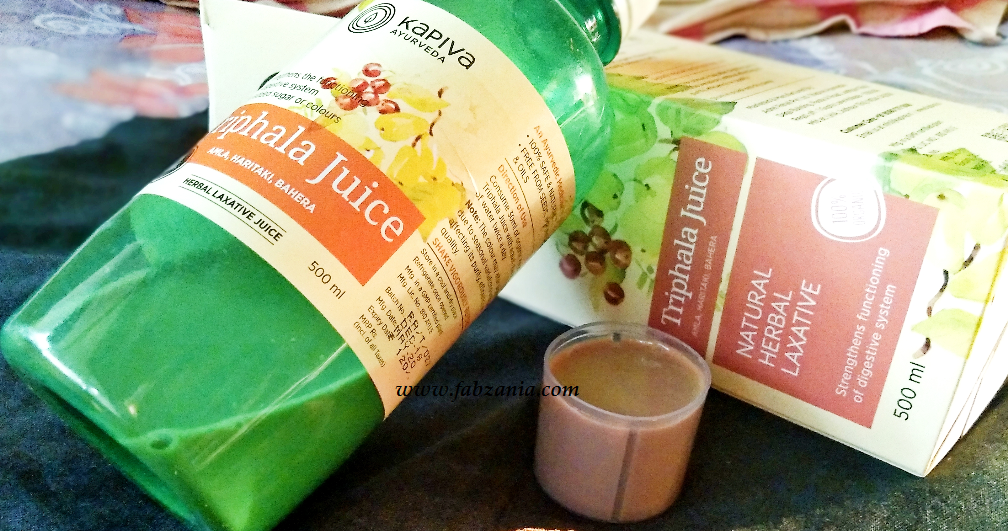 Benefits of Triphala For Skin
Consuming Triphala regularly gives overall benefits to the Body, Hair, and Skin. To get extra results, you can add half a teaspoon of Triphala powder or juice to your regular face pack.
Mix Triphala with gram flour (Besan) and some water. Apply this paste on the face and neck. Wash it off once it is dry. Do this twice a week and you will get healthier beautiful skin.
Triphala powder for acne – You can apply Triphala powder mixed with water directly on the acne. and pimples for quick results. Or just dab a cotton ball dipped in Triphala juice on the acne or pimples thrice a day for the best results.
Get Rid Of Dark Circles – Regular use of Triphala eyewash helps to get rid of puffiness and dark circles.
Benefits of Triphala For Hair
Using Triphala for the hair care regime is a traditional thing practiced in India for several years.
Triphala for hair growth – Applying Triphala powder paste (mixed with water) or juice (more convenient) on the scalp helps in boosting hair growth. Amla is known to be the best hair care product. And the combination of Amla, Harada, and Behada gives extra good results in hair growth and shine.
Triphala for dandruff – Apply the Triphala juice directly on the scalp. Leave it for 10-15 minutes and wash it off with a mild shampoo. This cures dandruff and flakes of the first wash itself.
How To Make Triphala Powder (Churna) At Home
You will easily get these three herbs from an Ayurvedic shop. And buying the readymade Triphala powder is easier. But you can surely make it at home easily.
Ingredients:
Dry Amla – 100 grams
Dry Harad / Harada – 25 grams
Dry Beheda – 50 grams
You can grid them individually or together. Strain the powder with a strainer. And store this fine powder in a container. It remains good for 3-4 months. So that you can store it easily.
Precautions To Take While Using Triphala Churna
Don't consume Triphala powder or juice in excess, a pinch of powder or 20 ml of juice should be enough
Pregnant and nursing women should avoid having Triphala powder (churna) as it can lead to miscarriage and can be harmful to the baby while nursing.
Triphala is rich in fiber and that can lead to bloating and water retention in the body
If used wisely, Triphala Churna can be extremely beneficial for everyone. Don't overdo the consumption of Triphala, and you will definitely see excellent results soon. There are tremendous benefits of Triphala powder. Use it wisely and see a healthier you.
Read More Posts Here
Take This 21 Days Glow Up Challenge And See The Change – Glowing Skin Tips
11 Things To Do To Be More Attractive
Anti-Ageing Homemade Face Packs For Naturally Younger Looking Skin
7 Incredible Health Benefits Of Sesame Oil For A Healthy Lifestyle