21 Days Glow Up Challenge And See The Change – Glowing Skin Tips:
Dull and lifeless skin puts everyone down. And then we go on searching for the best beauty products and cosmetics in the market. But can these artificial products help when the beauty doesn't come from within? We look for glowing skin tips from the internet, magazines and ask family and friends.
And we must know that along with some of the best beauty products, we need to look at other factors too. If you are not healthy from inside, no beauty product can give that glowing skin.
Take this 21 Days Glow Up challenge and see the definite change in yourself – Glowing Skin Tips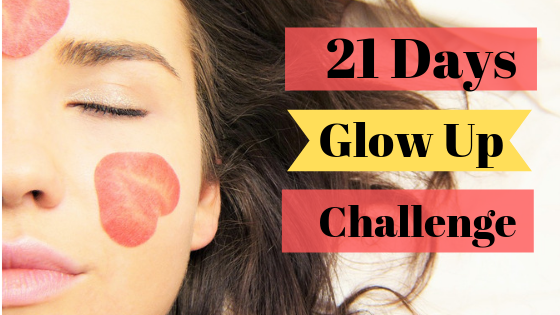 We bet you will be surprised after doing these things regularly at least for 21 days. Rest assured that you are definitely going to get that glowing skin soon.
1. Stay Hydrated – Drink 8-10 glasses of water every day
First thing first, a healthy skin's most important and widely known secret is to have a sufficient amount of water. Drink 8-10 glasses of water (preferably warm water) every day to keep the body and skin hydrated.
2. Add Healthy Fats To Your Diet
Canola, Peanut, Olive, and sesame oils
Nuts (almonds, peanuts, hazelnuts, cashews)
Avocados
Peanut butter
Sunflower, pumpkin, and sesame seeds
Walnuts
Flaxseed
Fatty fish (salmon, tuna) and fish oil
Safflower and Soybean oil
Tofu
Soymilk
3. Be Positive – Be Beautiful
You need to have a positive attitude towards life to stay beautiful. Tell yourself "I am beautiful". Chant this mantra several times a day but most importantly it should be chanted as the first thing after waking up and the last thing before going to bed. It will make you glow from within.
4. Breathing Exercise Is The Key
Doing Meditation and breathing exercises is the key to getting beautiful skin as breathing the right way helps the skin get enough amount of oxygen. A sufficient amount of oxygen is required for the skin to breathe properly and to look healthy and glowing.
5. Apply Homemade Facemasks – Glowing Skin Tips
Homemade facemasks are bliss. They make your skin better without inserting any harmful chemicals. Fresh fruit facemasks, Yogurt-Oatmeal, Honey-Banana, Honey-Coffee, Orange peel yogurt are some of the best facemasks that make your skin glow within no time. These homemade facemasks should be applied at least twice a week for 3 weeks (part of the 21 day glow-up challenge).
6. Don't Skip Meals
Having 5 small meals a day is the key to good health. And that is equally important for a skincare routine. Having 5 healthy food portions at the right time of the day gives tremendous benefits to the body and the skin.
Breakfast is an extremely important meal of the day and should contain healthy foods. There are a few things you should not eat for breakfast.
7. Add Fruits To Your Diet
Adding various fruits is good for the body and skin. Fruits are high in fiber and help remove the toxic elements of the body. When the body is detoxified, you naturally see the pink glow on your face too. A fruit detox is helpful in many ways. It helps you rejuvenate your skin, slows aging, reduces dark circles under the eyes.
8. Nuts And Dry Fruits Are Haven Of Nutrients
Along with the fruits, one definitely needs to add the nuts like walnut, hazelnut, almonds, cashew nuts to the diet. They are full of nutrients. Adding dry dates also boosts iron levels of the body so you get that pink glow naturally.
9. Green Veggies Play A Vital Role
Apart from the fruits, dry fruits, and nuts you need green vegetables to be added to your healthy diet. Green veggies make skin and hair beautiful.
10. Tender Coconut Water
Drink water of one tender coconut every day. It flushes out all the toxins from the body and the skin. And makes it glow a lot. It also contains natural electrolytes that keep you healthy.
11. Beauty Sleep
Sleeping for a minimum of 8 hours is considered beauty sleep. Skin and body get rejuvenated while sleeping. Beauty sleep repairs skin cells and combats aging factors. Make sure you sleep without makeup and wash your face before going to sleep. It lets the skin pores breathe and rejuvenate. This process restores the lost charm of the skin and the body and rebuilds beautiful skin and a healthy body.
Do these things for 21 days without a break and see a definite change. Don't stop immediately after 21 days and keep following the tips thereafter too so that your beauty remains well maintained.
This routine of 21 days of glow-up challenge makes Skin and Hair beautiful. Also reduces the under-eye dark circles, fine lines, crow's feet, wrinkles, and blemishes. All in all, it gives brilliant results after 21 days. Try these glowing skin tips and see the bright and beautiful you.
More Reads To Get Inspired
Self Love Quotes to Enrich Your Self Esteem
5 Anti-Ageing Homemade Face Packs For Naturally Younger Looking Skin