Because of its health-first focus, glass skin is like the holy grail of skincare trends and might very well be one that lasts the test of time. In a word, it's a continuous yet gentle procedure of eliminating dulling dead skin cells while maintaining ultra-hydration. If you follow the appropriate regimen and use the right products like a skin lightening cream, you'll have poreless, luminous, transparent skin that appears like glass.
Because of its natural look, it will be youthful, vibrant, and captivatingly gorgeous. However, there is a detailed step-by-step procedure for obtaining Korean glass skin behind the "glassy" appearance. So, what is the method for achieving glass skin? Continue reading to learn more.
Must-Follow Skincare Routine For Glass Skin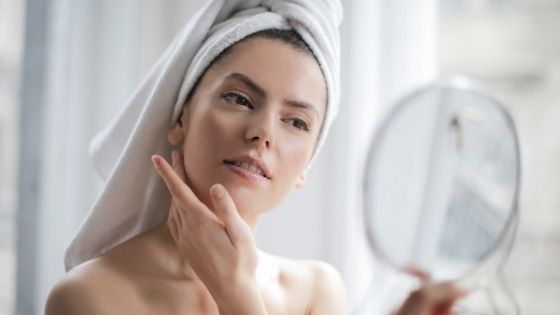 Healthy Eating for Beautiful Skin — The entire premise of glass skin is to create ultra-hydrated skin from the inside out. It implies that you must eat properly. There are no ifs and buts. Avoid stuffing oily food into your mouth at every meal. To help nourish your body from within, eat enough anti-aging fruits and veggies — and plenty of water, clean water, such alkaline water rich in nutrients. Once you've gotten into the habit, go to your favorite cosmetic store and look for the perfect Korean skincare products to go with this glass skin regimen!
Begin by cleansing twice — Before going to bed every night, totally eliminating all traces of oil, perspiration, makeup, grime, and pollutants are some of the most critical stages to glass skin. Many Korean women use an oil-based cleanser first to cleanse without stripping the skin. After that, they use a moisturizing cleanser. In this stage, they use an exfoliating cleanser every other night to remove dead skin cells that can dull your complexion.
Apply seven layers of toner to the face — Yes, you read that right: seven! Whether you want glass skin or not, don't use anything with alcohol. You can get that incredible shine by using a thoroughly rich and moisturizing toner on damp skin. Look for solutions that have deep-nourishing ingredients like Aloe Vera. Allow time for your toner to absorb before applying each subsequent layer.
Once a week, use a water-based mask/exfoliate combination — If you don't have time to dedicate to your glass skin routine, exfoliate using a water-based solution once a week instead. A product that can be used as both an exfoliation and a mask is great. Again, splurging on well-known brands is a good idea.
Apply essence — To attract moisture into your skin, use an essence with squalene and

glycerin

just before moisturizing.
Moisturize your skin — you can't achieve glass skin if your skin is not ultra-hydrated skin inside out. You'll need to choose a moisturizing cream with nourishing elements that plump your skin for this stage. Adding a bit of facial spray afterward enhances the impact.
Use SPF protection on a regular basis — The final step in achieving glass skin is to protect your skin from the

sun's harmful rays

. Before leaving the house, use it every day. Also, make sure it can be quickly absorbed, so you don't end up looking oily.
Along with these simple steps, do add a habit of applying a good skin lightening cream on your face to achieve the look. Fall in love with your glass resembling clear skin with this skin regimen. 
Related Posts
5 Anti-Ageing Homemade Face Packs For Naturally Younger Looking Skin