Frugal Living Quotes To Live By:
One sure way to achieve financial security is to spend less than you earn. However, you don't have to live a penniless lifestyle. It's possible to live comfortably while still enjoying your life. Spending wisely is essential to living a happy life. Saving money is only one benefit, but it will also help in reducing waste.
What is Frugal Living
When someone is frugal or lives a frugal lifestyle, they do not spend much money on themselves or eat much. 
In the case of frugal people, they aim to get as much value out of each dollar as possible. They spend their money according to their personal priorities. 
Cheap people focus more on cost than value when making purchases, and frugal people care about value. Frugal people tend to value the quality of their purchases more than cheap consumers do. It is actually being prudent with your own spending, and not being cheap in your dealings with others, that is being frugal.
A minimalist and frugal living has become a life mantra for many. Frugal does not mean to be cheap, it means to achieve the greatest possible value for their money. When you are living a frugal life you can feel deprived at some point in time. What is a good quote to live by? Here are some of the best Frugal Living Quotes that will add value to your life and motivate you to save more money every day.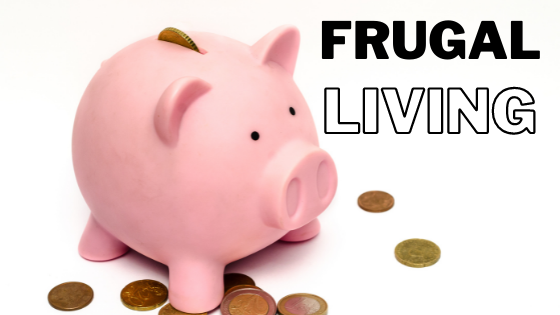 50+ Frugal Living Quotes To Live By
1 "I think frugality drives innovation, just like other constraints do. One of the only ways to get out of a tight box is to invent your way out." – Jeff Bezos
2 "Frugality is enjoying the virtue of getting good value for every minute of your life energy and from everything you have the use of." – Viold Robin
3 "Live simply that others might simply live." – Elizabeth Seaton
4 "He that will not stoop for a pin will never be worth a pound." – Samuel Pepys
5 "Frugality is the mother of all virtues." – Justinian I
6 "Frugality is misery in disguise." – Publilius Syrus
7 "By sowing frugality, we reap liberty, a golden harvest." – Agesilaus
8 "Because of deep love, one is courageous. Because of frugality, one is generous. Because of not daring to be ahead of the world, one becomes the leader of the world." – Lao Tzu
9 "Train your son and daughter to an employment, to frugality, to hold the high front and to walk the fearless step of independence." – Timothy Flint
10 "Can anything be so elegant as to have few wants, and to serve them one's self?" – Ralph Waldo Emerson
11 "Frugality is a handsome income." – Desiderius Erasmus
12 "Where lies poverty, there is frugality colored with love." – Dhanya Rashmi
13 "These days, you've gotta milk a dollar out of every dime." – Gayle Forman
14 "Without frugality none can be rich, and with it very few would be poor." – Samuel Johnson
15 "With a growing family to feed 'off the land', frugal gardening has become second nature!" –  Linda Gray
16 "I'm not a real frugal or thrifty, I just don't waste money on little things that don't matter but spend on big things that do." – Brian O'Reilly
17 "If frugality were established in the state if our expenses were laid out rather in the necessaries than the superfluities of life, there might be fewer wants and even fewer pleasures, but infinitely more happiness." – Oliver Goldsmith
18 "The way to wealth is as plain as the way to market. It depends chiefly on two words, industry and frugality: that is, waste neither time nor money, but make the best use of both. Without industry and frugality nothing will do and with them everything." – Benjamin Franklin
19 "The most substantial people are the most frugal and make the least show, and live at the least expense." – Francis Moore
20 "The worst kind of shame is being ashamed of frugality or poverty." – Livy
Quotes About Living Below Your Means – Frugal Living Quotes
Here are some great quotes and sayings about "Living Below Your Means With Great Impact".
21 "Even Socrates, who lived a very frugal and simple life, loved to go to the market. When his students asked about this, he replied, I love to go and see all the things I am happy without." – Jack Kornfield
22 "Never let the defeat of the past rob you of the success of your future." – Ray Comfort
23 "I need more frugality. I wonder where I can buy some." – Jarod Kintz
24 "With the greater part of rich people, the chief enjoyment of riches consists in the parade of riches." – Adam Smith
25 "It is great wealth to a soul to live frugally with a contented mind." – Lucretius
26 "The Bible warns us against greed and selfishness, it does encourage frugality and thrift." – Billy Graham
27 "Life can be beautiful. It doesn't have to be expensive." – Christine Louise Hohlbaum
28 "It just makes us have to be a little more frugal. Obviously, something has to suffer somewhere." – Robert Blackburn
29 "Being frugal doesn't mean slashing your spending or depriving yourself of things that you enjoy. It means knowing the value of a dollar and making every effort to spend it wisely." – Frank Sonnenberg
30 "Living a frugal lifestyle gives you the opportunity to invest more money towards your future." – John Rampton
Quotes About Prudence And Frugality
31 "The world has not yet learned the riches of frugality." – Marcus Tullius Cicero
32 "God provided for everyone, the problem is that many live excessive lives rather than being frugal so there is more to go around." – Kate Summers
33 "Frugality is one of the most beautiful and joyful words in the English language, and yet one that we are culturally cut off from understanding and enjoying. The consumption society has made us feel that happiness lies in having things, and has failed to teach us the happiness of not having things." – Elise Boulding
34 "Less is more." – Mies van der Rohe
35 "Thrift is not an affair of the pocket, but an affair of character." – S.W. Straus
36 "Frugality is an estate alone." – Latin Proverbs
37 "They just want to know what we stand for; our spending choices is one way that we articulate this." – Ron Lieber
38 "If saving money is wrong, I don't want to be right!" – William Shatner
39 "Cheap people don't become rich, frugal people are almost always rich." – Bill Duffy
40 "The principle of diligence and frugality should be observed in everything. This principle of economy is one of the basic principles of socialist economics." – Mao Tse Tung
Quotes About Saving Money – Frugal Living Quotes
41 "Only buy what you need. Think function, not fashion" – Harken Headers
42 "Deprive yourself on nothing necessary for your comfort, but live in an honorable simplicity and frugality." – John McDonough
43 "But even if they did have that kind of money rattling around in their pockets, actually spending it would offend their native frugality." – Neal Stephenson
44 "We make ourselves rich by making our wants few." – Henry David Thoreau
45 "You have to be ready for hard work and frugal spending to get the idea off the ground." – Garrett Camp
46 "Prudence with frugality is apt and without frugality it becomes redundant." – Sumita
47 "Saving is an essential part of planning a prosperous future. Save also part of frugality and avoid waste." – Unknown
48 "A simple life includes living frugally – getting more for less money!" – C Pulsifer
49 "Frugality is founded on the principle that all riches have limits." – Edmund Burke
50 "I'm so frugal, you wouldn't believe it." – Serena Williams
51 "Frugality, I've learned, has its own cost, one that sometimes lasts forever." – Nicholas Sparks
52 "It's the intelligent thing to be frugal." – Chuck Feeney
53 "Being frugal does not mean being cheap! It means being economical and avoiding waste." – Catherine Pulsifer
54 "Frugal lifestyle can be a very rewarding way of life. Not only do you save money, you learn to enjoy life differently, or as Art Buchwald once said – "the best things in life aren't things." – Unknown
55 "Thrift means that you should always have the best you can possibly afford, when the thing has any reference to your physical and mental health, to your growth in efficiency and power." – Orison Swett Marden
How can you tell if someone is frugal?
Individuals who are frugal are those who are concerned about both the price and quality of the items they buy. Furthermore, they value their time as well and don't want to spend hours shopping for bargains. Frugality requires not only saving money but also appreciating high-quality items and spending your time wisely.
Many people consider minimalist living and frugal living to be a lifestyle mantra. By being frugal, one means getting the highest possible value for their money, not being cheap. Living on a tight budget can make you feel deprived at times. 
You will find some of the best Frugal Living Quotes here that will motivate you to save money every day and add value to your life.
More Amazing Quotes To Live By
Hello April Quotes And Sayings To Bring Joy And Happiness
Independent Women Quotes To Empower You Everyday
40 Inspirational Quotes About Debt Payoff
Inspiring Quotes on Money (50 Wise Money Quotes)
Weight Loss Motivational Quotes To Keep You Going
ORGANIZATION QUOTES: 52 Inspirational Quotes About Being Organized