Mother Daughter Quotes To Celebrate The Bonding
The most beautiful relationship between two humans is the one of Mother & Daughter. A mother loves her child the most and has a special bonding with her daughter. She sees her mini version in her daughter and lives the life that she herself couldn't live.
The mom plans everything best for the mini version of hers. Let's celebrate this lovely bond of mother and daughter with some of the best Mother Daughter Quotes here.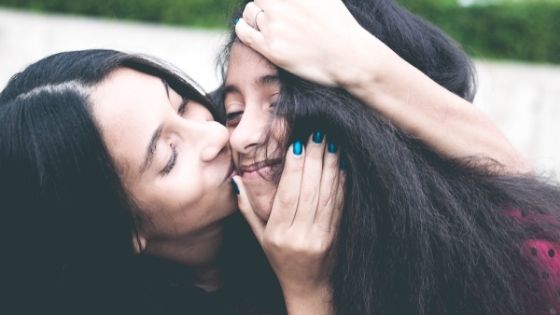 Mother Daughter Quotes To Celebrate The Bonding
1 "One is a mother to shield when lightning streaks the night, when thunder shakes the Earth, when mud bogs one down. One is a mother in order to love without beginning or end." – Mariama Bâ
2 "A son is a son till he takes him a wife, a daughter is a daughter all of her life." – Irish Proverb
3 "There were times when…I didn't have a lot of friends. But my mom was always my friend. Always." – Taylor Swift
4 "I've got her spirit /She's always got my back /When I look at her /I think, I want to be just like that." – Lauren Alaina
5 "The woman who is my best friend, my teacher, my everything: Mom." – Sandra Vischer
6 "To describe my mother would be to write about a hurricane in its perfect power. Or the climbing, falling colors of a rainbow." – Maya Angelou
7 "I tell my daughter every morning, 'Now, what are the two most important parts of you?' And she says, 'My head and my heart." – Viola Davis
8 "A daughter is her mother's gender partner, her closest ally in the family confederacy, an extension of herself. And mothers are their daughters' role models, their biological and emotional road map, the arbiter of all their relationships." – Victoria Secunda
9 "I love our daughters more than anything in the world, more than life itself," said the former First Lady in a commencement speech at Tuskegee University. "So for me, being Mom-in-Chief is, and always will be, job number one." – Michelle Obama
Daughter & Mom Quotes
10 "Words are not enough to express the unconditional love that exists between a mother and a daughter." – Caitlin Houston
11 "Mother and daughter got on very well indeed, with a deep affection founded on almost complete misunderstanding." – Mary Stewart
12 "One of the most important relationships we have is the relationship we have with our mothers." – Iyanla Vanzant
13 "When someone asks you where you came from, the answer is your mother. It's so much more than love. Even when there's no love, it's so much more than anything else in your life." – Anna Quindlen
14 "Life began with waking up and loving my mother's face." – George Eliot
15 "The woman who is my best friend, my teacher, my everything: Mom." – Sandra Vischer
16 "She's my best friend — she's everything to me. It's always just been me and her against the world." – Jacquelyn Middleton
17 "Daughters are angels sent from above to fill our heart with unending love." – J. Lee
18 "Mother is the heartbeat in the home; and without her, there seems to be no heartthrob." – Leroy Brownlow
19 "A mother's treasure is her daughter." – Catherine Pulsifer
20 "My mom is literally a part of me. You can't say that about many people except relatives, and organ donors." – Carrie Latet
Daughter Quotes About Mom
21 "Youth fades; love droops; the leaves of friendship fall; A mother's secret hope outlives them all." – Oliver Wendell Holmes
22 "Mothers of daughters are daughters of mothers and have remained so, in circles joined to circles, since time began." – Signe Hammer
23 "The more a daughter knows the details of her mother's life, the stronger the daughter." – Anita Diamant
24 "A mother's arms are more comforting than anyone else's." – Princess Diana
25 "My mother told me two things constantly. One was to be a lady, and the other was to be independent." – Ruth Bader Ginsburg
26 "A mother is one to whom you hurry when you are troubled" – Emily Dickinson
27 "The older I get, the more I see the power of that young woman, my mother." – Sharon Olds
28 "Mothers and daughters together are a powerful force to be reckoned with." – Melia Keeton-Digby
29 "Mothers and daughters are closest when daughters become mothers." – Unknown
30 "As mothers and daughters, we are connected with one another. My mother is the bones of my spine, keeping me straight and true. She is my blood, making sure it runs rich and strong." – Kristin Hannah
Daughter Quotes To Mom
31 "A child's first teacher is its mother." – Peng Liyuan
32 "No daughter and mother ever live apart, no matter what the distance between them." – Christie Watson
33 "A daughter is a miracle that never ceases to be miraculous… full of beauty and forever beautiful… loving and caring and truly amazing." – Deanna Beisser
34 "Of course mothers and daughters with strong personalities might see the world from very different points of view." – Katherine Howe
35 "I am a strong woman because a strong woman raised me." – Unknown
36 "As they get older, our daughters become more and more like us too." – Amy Newmark
37 "No daughter and mother ever live apart, no matter what the distance between them." – Christie Watson
38 "They both began to giggle and then…fell into a side-splitting round of laughter, the cleansing, complete sort of laughter only a mother and daughter can share." – Karen Kingsbury
39 "The love between a mother and a daughter is forever." – Patricia Wayant
40 "Mother-daughter disagreements were, in hindsight, basically mother stating the truth and daughter taking her own sweet time coming around." – Barbara Delinsky
A Mother Daughter Relationship Quotes
41 "The relationship between parents and children, but especially between mothers and daughters, is tremendously powerful, scarcely to be comprehended in any rational way." – Joyce Carol Oates
42 "A mom is a daughter's 'first' friend. And, through life, becomes her best friend." – Vicki Reece
43 "A mother and daughter's love is never separated." – Viola Shipman
44 "A mother influences her daughter's development through many stages of her life and ideally, represents a suitable role model for her daughter to learn from." – Wendy Fry
45 "A mother and a daughter always share a special bond, which is engraved on their hearts." – Unknown
46 "A mother who radiates self-love and self-acceptance actually vaccinates her daughter against low self-esteem." – Naomi Wolf
47 "A relationship between a mother and a daughter shouldn't be built on the shoulders of a man." – Emily A. Myers
48 "The love between a mother and daughter knows no distance." – Unknown
49 "Mothers, look after your daughters, keep them near you, keep their confidence- that they may be true and faithful." – Elmina S. Taylor
50 "A daughter makes a mother's life brighter and the mother makes daughter's life warmer." – Unknown
Read More Amazing Quotes To Motivate You Everyday
Father Daughter Love Quotes That Will Warm Your Heart
Encouragement Quotes To Help You Keep Going
Independent Women Quotes To Empower You Everyday